Within any organization, change is a given. If leaders approach change without empathy, transparency, or understanding, that change can be blown out of proportion and feared. Each team member can and will interpret the consequences of change differently. As leaders shrinking the change at hand and reassessing culture are critical to the success and the sustainability of the change at hand.
We believe the change is challenging but possible to achieve with a healthy balance when handled proactively. In fact, change offers an opportunity to reassess culture and find ways to grow and innovate.
Reassessing Culture and the Importance of Change
Anytime you make a change, it's wise to step back and understand the potential effects of what you're implementing or what is happening. You must make a change, so why take your baggage into that change? Seize the moment. Think about who you are and who your team is versus replicating what previously existed in your organization's space. 
For example, it can be a time to reassess culture if you're going remote or forced remote. Use the shift to remote as an opportunity to ask how you do so and which cultural shifts might come along with the change. What are you happy or not happy with?
View this situation as an opportunity to debrief. Invite the team to discuss how you show up and operate so that you can design with intention. Are there company core values that you need to reassess? Are the needs of all of your employees being met? Is there room for growth within your values and company culture? Seize the moment. 
A UX design mentality captures this concept well. This is essentially the act of being open to criticism of the system's design to add value to a situation or solve a problem effectively.
Ask the following questions to start:
Why are you facing the change?
Is something in our culture causing the necessity for change?
How do you utilize experimentation and exploration to it move forward?
As another example, take organizations that build the AI systems of today. If they don't take thoughtful care of how they build those systems, then bias, misunderstanding, and lack of empathy will creep in.
Bias represents traditional systems and how you all viewed work in the past. The same thing is true if you simply moved everything to remote without delicate consideration. Our policies and the ways you meet, connect, collaborate, and do things are influenced by past mistakes, consequences of things that are out of our control, or things you're reacting to that are no longer valid.
On the surface, this concept is simple. The key is knowing and implementing the tactics to reassess.
This article discusses the following tactics for thinking about culture and using change to your advantage.
Establishing psychological safety.
Asking questions.
Staying in tune with the effects of change on people.
Using design thinking.
Reassessing urgency.
Recognize purpose within change.
Innovation happens slowly. In our conversation with Jamie Gardner, she highlights the importance of patience within innovation. Real change happens with time, so communicating the change at a high level and diving deeper into the change incrementally helps build trust and psychological safety. 
Getting people involved will align your team at a high level from the start.
It's more productive and allows for transparency to align people and establish a culture of trust before diving deeper into the details and challenges of the upcoming change.
Involve those that a change will affect.
Building trust enables people's willingness to experiment with change. When people feel invested in change, they want to see it through. They're willing to listen to problems and assess what's working and what isn't for them on a personal and organizational level.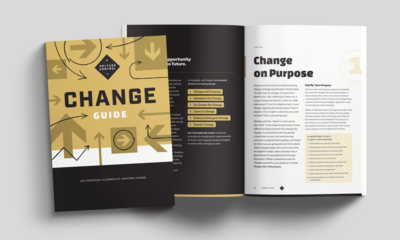 FREE DOWNLOAD
Get Our Change Guide
To make way for change, it's essential to identify the "why" behind your desire for it. If so, it's unlikely to last. Is your change aligned with shared values? Does it project a line of sight in a direction you want to head? That's a promising start.
Empathy and clear communication make all the difference in guiding a team through change.
Give people perspective so that they can trust through understanding. The more individuals are left in the dark about the "why", the greater the tendency to question intention. When a change has the potential to alter finances dramatically, position, or social standing, for example, being left in the dark is a surefire way to invite resistance to change. 
2. Ask questions.
High-level navigation of change begins with asking the right questions.
What are you proud of? What do you appreciate? What's not so great? What's aspirational? What's dragging you down, and what's lifting you up? How do you talk about our culture internally that is not being manifested?
You might say that you have specific values, and you aren't actually living them. That's the "saying – doing gap". Change can, but doesn't always have to, involve a values shift. However, when faced with change reevaluating our values on a company-wide level has the potential to lead to more meaningful answers.
Leave room to address miscellaneous questions and concerns. It provides space for empathy and growth as leaders and teammates. Worst case, set some time aside and don't end up needing it, but it's wise to assume that you didn't cover all of our bases in the planning process alone.
3. Stay in tune with how change is affecting people.
Acknowledge possible negative outcomes.
How will this affect our culture?
Which communication practices will be interrupted?
How can you communicate effectively throughout this change?
Is this change long-lasting?
What can you do to evolve during and after this change? Do our teammates feel supported sufficiently enough to handle this change? 
Being human-centered is the key to lasting and innovative change. While facing your change, it's important that you're able to create a space for innovation. At times, you may need to lean heavier on specific team values. When sharing your change with your team, utilize experimentation. Ask everyone to express themselves in a new way. Rather than vocalizing, or writing out their fears or hesitations, invite them to draw their emotions. Get back to pencil and paper. When looking at getting your entire team involved, offer a variety of ways to express what values they hold near and dear. This allows for everyone's voice to be heard, which will truly shift your company culture to one that is transparent, inclusive, and fully prepared to embrace change. 
Design thinking is worth considering as a more holistic approach. It centers around empathy first with a focus on people, and people are at the core of every organization. As you identify these possible effects of change, design thinking challenges us to move forward in testing the process of these ideas. 
Design thinking plays a crucial role in engagement by centering the needs of each participant and ensuring that each person involved has a stake in the organizational change's success.
As we've said before, change is a type of experimentation. Some changes must be made, but you must keep in mind that you can find ways to work with change rather than settle on a single way of thinking or working. The process of ideation around this change, even if the change itself is inevitable, is essential.
As you implement the change, you challenge yourself to notice differences in how you think, work, and interact. Whatever process you choose to guide that change, you enhance your understanding of your team, strengths, and opportunities for improvement. Viewing the initial change as part of design thinking allows us to develop our approach with time. 
If you hold yourselves and each other accountable for checking in and making necessary adjustments to our practices, you'll be much more successful at achieving our full potential. Again, if you're aligned at a high level early on, you're more inclined to work together towards a fitting solution.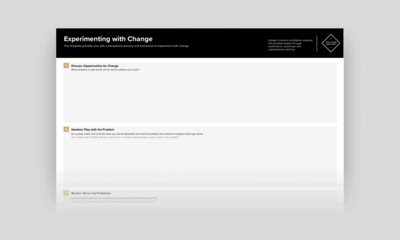 FREE DOWNLOAD
Get Our Experimenting With Change
This template provides you with a transparent process and framework to experiment with change.
5. Checking in and reassessing urgency.
Take some time to step back as a team and determine priorities.
In the midst of change, it's easy to get caught up in the logistics and push to have tasks completed quickly just to make progress, but that often leaves room for mistakes and forgotten priorities.
We should consistently look to stick to our values, but beyond that, what are our cultural non-negotiables? What needs to continue, and what can take a backseat in order to keep our determined priorities at the forefront?
Step back and ask why you're making this change in the first place — considering who's involved. How can you work together to ensure you're on the same timeline? What's most urgent about the change process?
Small changes ultimately make the most significant differences within innovation. What are you making time for amidst this change? Which practices should you integrate? Are you leaving time for learning as individuals? Are you practicing self-awareness? 
If we want to innovate, we must change. If we want to create lasting change, we must consistently reassess the effects that change has on culture, what our teams and organizations value, and how the change ahead will be sustainable.
Voltage Control can help you change the way you think about growth and pursue innovation. Through custom-designed programs, we guide leaders in navigating change with cultural stability.
Our change programs aim at unleashing full potential through practices that solidify learning and help you realize your potential as leaders and teams. We offer a range of formats, from courses to workshops, to support you through your transition. 
In need of some guidance? Reach out to us at hello@voltagecontrol.com to discuss what we offer.
Looking to connect with Voltage Control
Let's get the conversation rolling and find out how we can help!