This year 2023's Control the Room event proved to be an extraordinary occasion that offered numerous advantageous chances to interact with others. Commencing with the in-person facilitation summit on February 7th, the main event was followed by a week-long sequence of virtual speakers. The summit's focal point revolved around the theme of IMPACT, urging us to ponder over how we influence our clients, professions, and peers. All in all, it was a memorable and valuable experience for all!
Comprised of facilitators from around the country and tuning in virtually from around the world, our community provided valuable interactions, feedback, and wonderful connections. We all realized the impact we can have on one another and how that impact can be inspirational and inspire change and innovation.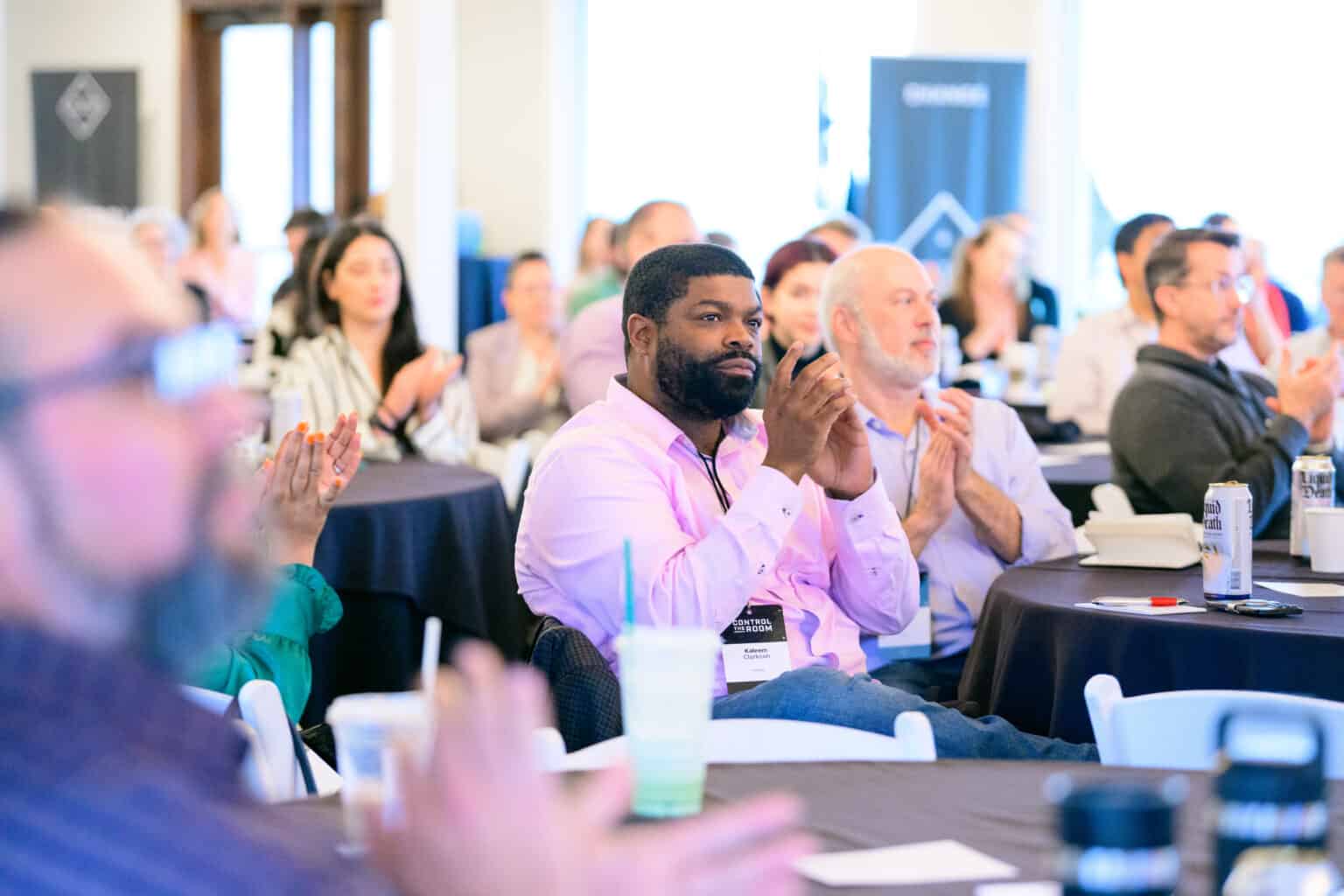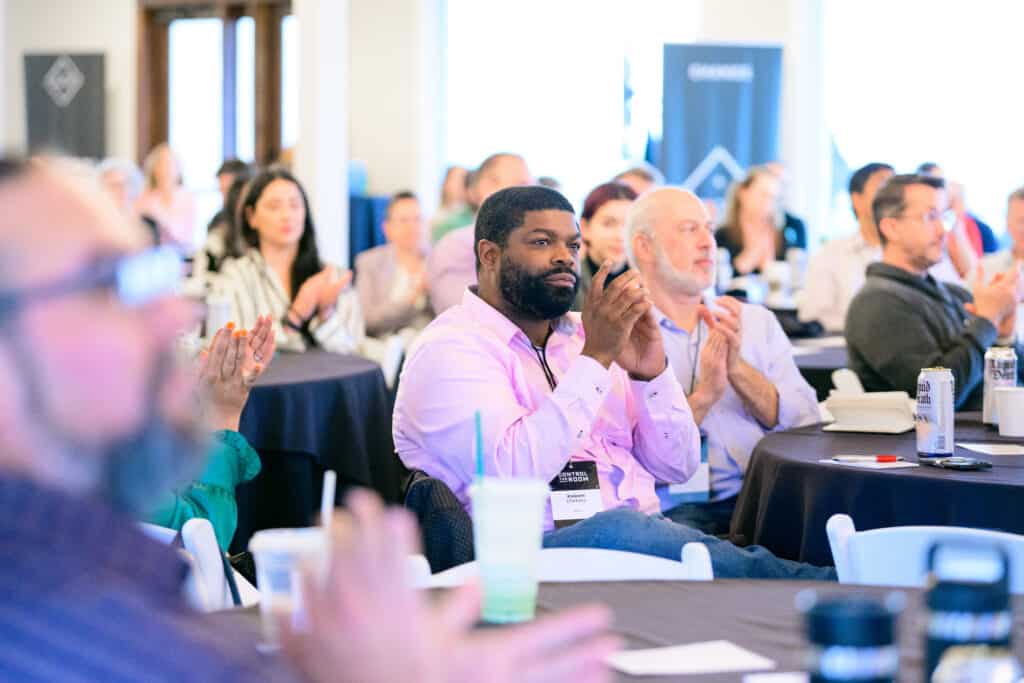 Insights
From Rose, Thorn, and Buds from our community about the event (we are always striving to be better, grow further, and learn more!) to wonderful and kind messages from presenters and attendees alike, we wanted to share some insights about the event with you all. Let's start with the award-winning choreographer, Bradley Rapier wrapped up the summit, on February 7th, with a groovy dive into the rhythm we all feel within. Movement, beats, and music are a wonderful way to connect, and this last exercise of the day wrapped up Control the Room 2023 with energy, and great vibes! Check out the insights about the conference Bradly shares below!
Our Community never disappoints, especially when we all get together, virtually, or in person! This group shares insights about how facilitators collaborate, how we work to immerse one another, and how we can boost one another to achieve great things!
As a "frequent facilitator" in my multiple roles and jobs, I find it is a stress reliever for me to collaborate with other people doing the same work. There is a "meta effect" when facilitators collaborate. The Control Room Summit had just that effect in spades: Expert facilitators, facilitating facilitators collaborating. I loved the immersion, learned a lot, and look forward to more collaborations sponsored by my friends at Voltage Control.

– Eric Olson, PhD, Professor, Industrial Technology Director, Central Coast Lean, Cal Poly – Orfalea College of Business
Life often presents us with career shifts, and opportunities to level up, and throws us curveballs where we are expected to pick ourselves up out of the ashes. Our community always finds support within one another, we find ways to encourage collaboration and peer learning, and we lean into inspiring one another to truly reach our full potential!
This year's Control the Room was an extraordinary experience that exceeded my expectations. I learned more than I ever thought I could, and now I feel like I can take on the world… or at least the conference room. The conference was filled with amazing speakers and valuable insights that left me feeling energized and inspired.

One thing that stood out to me at the conference was the emphasis on connection and collaboration. It was clear that the organizers had put a lot of thought into creating a welcoming and inclusive environment. This was because attendees could connect with one another and share their experiences. As someone who values community and connection, I appreciated this focus and felt that it helped to make the conference a truly special event.

One of the presenters that resonated with me the most was Renita Smith. Renita's story and her journey were incredibly inspiring, especially as a person of color in the field. Her words were not only impactful but also relatable, and they reminded me that I have a distinct perspective and valuable contributions to offer.

Overall, one key takeaway from the conference that meant the most to me was the importance of seeking out a mentor to help support and sponsor me as a growing leader. A mentor can provide invaluable guidance on how to navigate the challenges of leadership and can act as a sounding board for creative and innovative ideas. The mentor talk was particularly impactful for me, and it has motivated me to actively seek out a mentor who can help guide me in my career. I guess it's time to start a mentor search, so wish me luck!

The community at Control the Room was supportive and inclusive, and I am honored to have been a part of it. I connected with fellow attendees who shared similar interests and challenges. These connections have inspired me to continue collaborating with others and seek out new opportunities for growth and development. I left the conference feeling more connected and empowered than ever before, and I can't wait to see what the future holds.

– Joshua Johnson
Community members flew in from across the nation, and we love seeing everyone in real life! The energy ran high, the vibes were positive, and true networking was seen happening across the room, and within our virtual rooms!
So enjoyed being part of this gathering — thanks to you, Douglas Ferguson, and the entire Voltage Control team for hosting such an engaging learning experience!

– Kellee Franklin
It was such a privilege to present alongside such amazing, talented facilitators. What a fantastic experience and thought-provoking event!!!

-Zach Montroy, SPHR
"There's a freedom you begin to feel the closer you get to Austin, Texas." — Willie Nelson

It was a great visit this week in the vibrant City of Austin.

Thanks to Douglas Ferguson and the Voltage Control team for hosting the 5th Annual Facilitator's Summit where I met and reconnected with many amazing professionals doing transformative work across the world — J Schuh – PBA, PSM I , Taylor Cone, Jimbo Clark, Benjamin Herndon, Ph.D. , and Lloyd Dangle — and so many others!

Three important reminders about the significance of the leadership skills showcased at the summit for me were that effective facilitation: Creates connection, Builds community, Inspires innovation.

Kellee Franklin
Control the Room 2023 Conference was FANTASTIC this year! Huge shout out to Douglas Ferguson and the staff at Voltage Control for showcasing world class speakers again this year!

Learning, reflection and fun was had by everyone who attended.

J Schuh
In a time when companies are seeking leaders who can bring their people (in-person and virtual) together, design a shared vision, and reimagine business possibilities — it was wonderful to see the diverse talent that are helping and supporting others in achieving these ambitious aspirations and business necessities.
Virtual Speaker, Marisa Davis, shared valuable insights, favorite quotes, and key takeaways with the community, you can read her full recap here.
What a wonderfully fun and engaging day with this incredible 'Zoom Crew' of virtual participants at the Control the Room Facilitation Summit. Thank you to my partner-in-collaboration Mark Tippin for co-piloting this virtual/hybrid experience, helping to build our interactive summit Mural space, and connecting the many dots and impacts from all of our speakers today!

It's so much fun to be a part of an event with facilitators – my favorite part of our virtual session was the attendees' willingness to jump in and co-create the experience with Mark and me. One example of this was when we built out a new Mural section to allow everyone to share emerging topics they wanted to discuss, then launched a choose-your-own breakout room segment for those themes over the lunch hour. We hadn't specifically planned it, but together, we made it happen.

Thanks for an impactful day and I am thrilled to connect with so many new facilitator friends!

Shannon Varcoe
Our #ZoomCrew was amazing this year, as it always is! Our Vice President of Programs, Shannon Varcoe, and Mark Tippin, the Director of Strategic Next Practices at MURAL, were the perfect hosts for the occasion. As a longtime Voltage Control collaborator, participant, and friend, Mark brought a wealth of experience and expertise to the event.
Huge shout out to Mark Tippin from Mural and Shannon Varcoe for their online collaboration at the Control the Room conference lead by Douglas Ferguson and the Voltage Control team!

This was an amazing event both in person and online.

J Schuh
We have an amazing team here at Voltage Control, and our Executive Assistant, Jamie LaFrenier stood out from the crowd for her dedication, her empathy, her hard work, and overall making the event a wonderful experience for our guests! We have captured a few thank yous here, and we have so much appreciation for Jamie! We would not be able to do it without her expertise, her kindness and humility, and her spirit!
Jamie,

Fantastic job this week. For those of us participating the event was flawless. You and the team kicked ass. I hope you all give yourselves a few day's rest to celebrate and breathe with ease again. Warmly,

Amy Luckey
First off, THANK YOU SO MUCH for making the magic of Control the Room happen. It was my first time speaking at something like this and I was terrified, but y'all really did the most to make it such an incredible experience. Thank you times a million!

Robin Arcia
Thank you again SO MUCH for all the work you and the team did to make yesterday such a success. It's such a wonderful community and I was honored to have time on the stage and among the group in the room.

Taylor Cone
At Voltage Control, we are constantly working towards expanding and diversifying our community, while also prioritizing equity and inclusion. We understand that in order to truly foster growth and innovation, we must create an environment that values and celebrates the unique perspectives and backgrounds of all individuals.
We are thrilled to share that our Control the Room was an event to remember, and we are excited to see how much further we can go in the upcoming year. With each passing day, we are gaining a deeper understanding of what it means to create a truly inclusive space, and we are committed to continuously learning and evolving in this regard.
As we look forward to the next iteration of Control the Room, we can't help but feel a sense of anticipation and excitement for what's to come. We know that our community will only continue to expand and thrive, and we can't wait to see the incredible ideas and perspectives that emerge as a result. We are confident that with our shared commitment to diversity, equity, and inclusion, we can make a meaningful impact and create positive change within our organization and beyond.
Get Our Work Now 2023
After going remote during COVID-19, many organizations continue to offer remote or hybrid options to workers in higher numbers than ever before. This survey is a snapshot of that work, offering snapshots of the lived experiences of both hybrid and remote workers. Of the 210 individuals we surveyed, most or all identifying as leaders in remote or hybrid workplaces and teams, we share herein the stories from the data that will help readers understand the current trends in remote and hybrid work and, even more importantly, what the future holds for hybrid and remote workers.