At any given day of the week, at the end of 2021, you could find me performing all sorts of calendar manoeuvres to find a better fit for all my freelance obligations. I was delivering creative learning and digital literacy programs for several organisations in London, which meant working across a huge physical area of the city after the end of the lockdowns. Despite this being considered, from a freelance perspective, a normal (and even successful) work routine in London, somehow these' creative learning' and 'gig-economy' models were not sitting right with me. It was time to unpack the role that facilitation played in this equation to clarify my next career move.
I have worked as an artist since 2013, frequently participating in festivals, conferences and round tables. My practice is located in the fields of experimental music, soundtrack composition, and creative electronics. Although my practice is highly performance-oriented, workshops were also offered to those interested in examining the creative, technical and methodological skills fundamental to these areas. Almost seamlessly, and yet by 'accident' terms such as "educator" and "facilitator", started to be part of my professional identity.
In 2017 I migrated not only to London, but also to working with large organisations such as Red Bull, the Goethe Institut, Arts Council England, the Institute of Imagination, the British Council, Jack Petchey Foundation, National Saturday Club and others. What began in Brazil as practice-led workshops slowly developed into educational activities for arts and digital literacy engagement programmes. From then on, I delivered the pre-designed portfolios of these organisations on various topics under the umbrella of creative learning. These were often larger programmes, funded by local and national agencies and charities, that followed the UN's framework for sustainable development – where "creativity" is considered part of the 21st century skills literacy package. Despite these noble goals, I felt this way of working with 'creativity' distanced me from my ethos grounded in artistic practice and investigation. Furthermore, on the deliverables-end of these projects, freelancers were often contracted to work only on short-term and one-off engagements.
From a freelance perspective, this 'gig-economy' model was not ideal for someone with my background as well as alienating – no working in teams, not meeting in house staff, no time or space to network. Having worked for almost a decade as an artist in festivals, exhibitions, museums and residencies meant I was at my best working in collaboration with other cultural workers (artists, producers, musicians, curators, technicians, etc). Despite having just finished a masters in Arts Management (Birkbeck – University of London) to work in the arts in different roles than being an artist, I really had very little work experience. With my cultural capital located in the art world and academia I was out of my element around policy makers, development officers, project managers, and marketing directors. In this new fast-paced and institutionalised context, practical training held the promise of complementing my theoretical masters to finally make more informed professional decisions.
Suddenly it was crystal clear to me that 'facilitation' was the only thread connecting my artistic practice, experimental workshops in Brazil and freelance in London. I had never had any form of training in facilitation and so my journey began, facing the myriad courses, masterclasses and certificates available out there, realising that facilitation can be terribly institutionalised, yet a 'no-man's land'. I had to find a course that was based both on facilitation frameworks (preferably grounded on social purpose) and, more importantly, on helping clarify one's professional mission and purpose as a facilitator.
My first impression was that Voltage Control's Facilitation Certification was an interesting blend of depth and exploration. It suited both my professional needs and profile, as there was also the possibility of applying for a diversity scholarship. I was convinced this could be a path to the transformation and was thrilled to be accepted. The course was indeed powerful, but not only because the facilitators of Voltage Control are brilliant, but also because studying Facilitation with a cohort of facilitators is unlike any learning experience I have ever had. As we built up more confidence, there were numerous opportunities to give feedback on each other's work and experiences, which enabled enormous growth in a very short time. With regard to the structure of the certification, all felt very well in line with my needs: the core module examined professional purpose and growth, and the optional modules offered in-depth training on practical skills (workshop design, design sprints, liberating structures, etc.).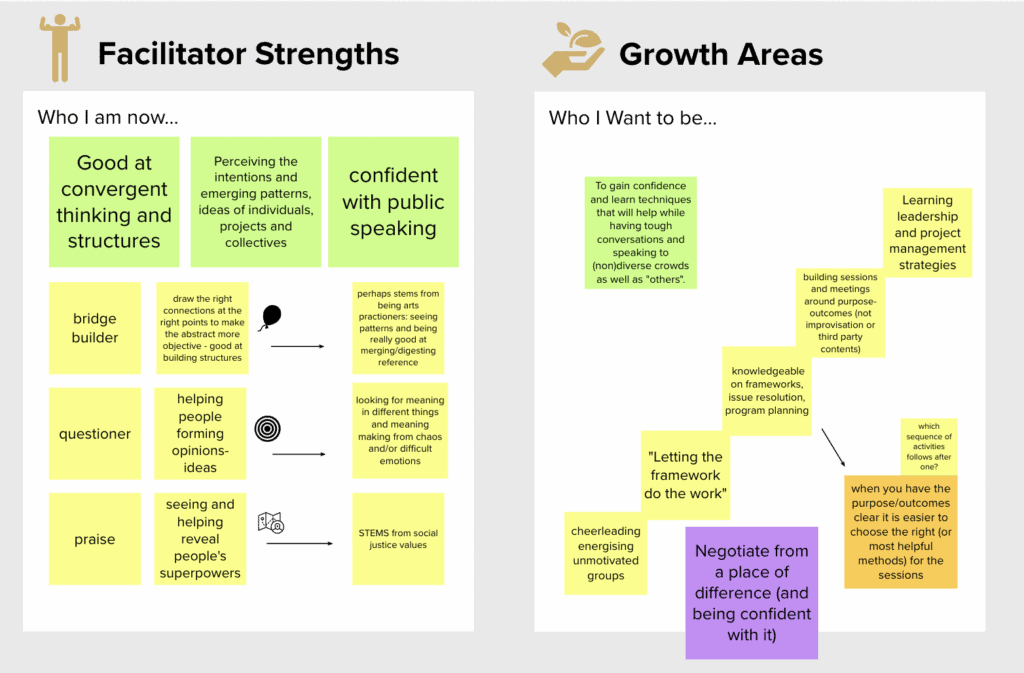 Erik Skogsberg was the instructor for my cohort. He is not only an incredibly capable lead facilitator and mentor, but also the VP of Learning Experience Design at Voltage Control. In little less than five months (including conclusion of asynchronous optional modules and final portfolio work), my journey was complete. Not only did I emerge with a much clearer vision and equipped with new tools and insights for my practice, but also with a transformed sense of professional identity. Believe it or not, I realised that Facilitation, as I understood it before the course, was not really something for me. Let's unpack this insight further and clarify the role facilitation played in my career.
The first transformation was like tidying up an overflowing closet – I reorganised my website. Before, my artistic practice and facilitation portfolio were entangled in one website, confusing for all my audiences. The certification journey helped identify the thread of 'facilitation' woven through both my practice's initial flirtation with education in Brazil and my freelance work in London. I understood that facilitation was present not only in delivering workshops, but also in coordinating collaborative projects, participating in work groups, and even in residencies or exhibition projects, making decisions with curators, producers and artist groups. This clarity allowed me to weave a fresh portfolio with a more lucid storytelling narrative which started by identifying my facilitation 'artefacts':
The next phase was deeper and transformed my professional self-perception. As a newbie, I had bought into a gig-economy trend whereby one secures their freelance reputation by foregrounding the weightiest clients. These large organisations capitalised on my ability to teach creative skills, but ultimately were as uninterested and disconnected from their artistic contexts as possible. As a result, I focused my CV on larger jobs, which ultimately led to the exclusion of many partnerships that were too alternative for my institutional English employers. Nevertheless, despite not making my portfolio, I had never stopped working with my art networks, especially during the pandemic, far beyond London, in São Paulo, Buenos Aires, Bogotá, Los Angeles, Berlin and Lisbon.
"The course was indeed powerful, but not only because the facilitators of Voltage Control are brilliant, but also because studying Facilitation with a cohort of facilitators is unlike any learning experience I have ever had."
From my networks in sound art, experimental music and feminism (both in Latin America and Europe), I often received invitations to coordinate small-medium festivals, be a guest or moderator of panels, curate symposia topics, and mentor artists in bespoke projects and residencies. The redesign of my professional self-perception was related to the understanding that the long-deserved "career promotion" could only come from the recognition of my professional experience as a whole. Over the past 10 years, I have worked as a practising sound artist and art educator; as a freelancer in mainstream creative learning; as an arts consultant in exhibitions / conferences for independent organisations. From that moment on, I finally saw the strength of my full professional experience and started looking for working partners who valued it accordingly.
Get Our Facilitation Certification Portfolio Starter
Use this template as a space to prototype the beginnings of a professional facilitation portfolio and apply for the Facilitation Certification Program
The last shift was about choosing quality over quantity and having more clarity about what career progress looked like. While taking the certificate, weekly sessions and peer-to-peer feedback allowed me to understand that I had to let go of partnerships that were not offering professional (and personal) growth opportunities. When I moved to London, while exploring Creative Learning, I had to adapt my workshop skills and shape my art education practice to fit as many facilitation roles as possible. After a few years, however, this career path felt disconnected from the arts. Despite fast-paced freelancing no longer interesting me, the reality was that I also had no idea what my professional purpose was at that point. When I started my certification, I had the following professional (vague) mission statement "to provide expertise in art and technology to a wide audience." During the three months of the course, I finally had the opportunity to reflect more on my mission and after a thorough investigation during the sessions, I was able to extract the following word cloud from my writings:
The word cloud pointed to my core values and provided new keywords for the new statement. The following mission was formulated for my final portfolio assignment:
I build bridges between knowledges, technologies and cultures;
I orchestrate the collective intelligence of artists, cultural workers and organisations to help them work collaboratively, developing the conceptual and technical language and skills required to produce their best possible art works and multimedia projects;
I design and deliver empathic, collaborative workshops and mentoring sessions to navigate the complex social, conceptual, technical and technological dimensions of artistic projects and exhibitions.
I believe being an artist and having access to the Arts shouldn't be a privilege but a right, and my mission is to help shape an ever fairer and inclusive arts and cultural sector, fostering more ethical, sustainable and critical art works, artists and communities.
The process of re-grounding on my core values led to a 'course correction' on my journey, seeking partnerships that enabled growth and reconnection with my community of practice in contemporary art / music. As such, I have maintained a freelance partnership with FABRICA (Treviso – Italy), an institution run by the Benetton Group (Colours magazine, United Colours of Benetton). FABRICA is both an arts, design and communication research centre and an artist residency that receives 30-35 artists per year. Founded in 1994, it is one of the longest-running residencies still active in Europe, and heavily influenced by the legacy of Benetton and Andy Warhol's Factory (as the title suggests).
In 2021, then-director João Wilbert (an artist from my networks in Brazil who also lives in London) invited me to give a one-off talk about professional artistic practice. My first visit had such an impact on residents and staff that I have been invited to return as a permanent resident tutor for all residency cohorts since. Currently, I travel to Treviso bimonthly to offer artist mentoring sessions, first during the project conception phase and later during the final exhibition period. In addition, I work closely with the residency director to create an important communication and methodological bridge between the curatorial, coordination, production and technical teams. I am grateful to FABRICA's staff and several generations of residents for our work together. This partnership enables constant professional growth, while being strongly aligned with my values based on openness, genuine curiosity and the formation of bonds (so important socially and professionally in the arts). I am particularly grateful to the current residency director Carlos Casas, one of the most insightful and experienced artists I have ever worked with, a generous listener and often like a mentor to me.
"Vanessa is incredible! The kind of support she provided was singular and very needed. Someone who listens deeply and considers the needs of each individual project and person, on their own terms. Fabrica was/is fortunate to have her."
Mentoring feedback survey conducted at Fabrica in June 2022
In addition, in the spirit of finding more meaningful, long-term partnerships, I started applying for permanent jobs, focusing on arts education through a contemporary art lens. After a long recruitment process in the summer of 2022, I was offered a job at Central Saint Martins (CSM-UAL), a university number two in the world for art, design and fashion. Currently, I work in the Learning Zone, a media lab type space within the library and learning services, designed for collaborative project / prototyping support. The advantages of a permanent contract in a large institution are precisely the things missing from the freelancing gig economy-style. First, basic workers' rights (protection, sick leave, structure, pension and benefits); second, access to the full range of resources of the organisation (in this case world-class practice-based and research resources in contemporary art); last but not least, conviviality with colleagues who are only incredibly knowledgeable in their fields of expertise, and also the kindest, most interesting and interested working family I have had in London.
Needless to say, CSM and FABRICA are complementary roles, which not only support my practice and contribute to the various forms of capital required to live in London, but also welcome and value my international personal history and identity as a whole. Beyond my needs and preferences as an artist and freelancer, it is imperative to make clear that as an expat LGBTQ+ person, I now have much more awareness of the struggles and barriers that marginalised communities face in accessing safe, reliable and welcoming workplaces and networks that value their lives and experiences.
Once I accepted the permanent job at Central Saint Martins and smoothly developed a trusting partnership with Fabrica, I took a long-deserved break from the constant frenzy of CV updates and freelance job hunting. To this day, I am both proud of myself (for having had the courage to redefine my career) and humbled by the commitments I have made to my new professional mission. Ironically, during the certificate, I also realised that being a facilitator was not a career path I wanted to pursue. At my core, I am a musician, a deep listener, and as such I now understand facilitation as an ethical communication framework embedded in my professional practices when creating, sharing and inhabiting artistic experiences and projects.
"At my core, I am a musician, a deep listener, and as such I now understand facilitation as an ethical communication framework embedded in my professional practices when creating, sharing and inhabiting artistic experiences and projects."
Voltage Control, Erik and my cohort colleagues were the facilitators of this process, providing me with the platform, language, clarity and framework to lay the foundations for change. For those who have a facilitation element in their careers that requires a more thorough investigation, I encourage you to explore Voltage Control courses. They will give you the framework and language to understand what kind of professional transformation and progress you need. Let's together form a more vibrant, inclusive and socially engaged art world!
Thank you for listening.
Facilitation Certification
Develop the facilitation skills and confidence needed to transform meetings, inspire innovation, drive collaboration, and lead change.