The nature of innovation is that it is a hyper-fluid force that is never fully predictable. A well-curated change management strategy helps to harness the power of innovative change.
Innovation plays a significant role in driving positive change, as 51% of organizations attribute their success to innovative initiatives, all of whom also experienced an 11% increase in revenue.
In this article, we trace the pathway to innovative change in the following topics:
The Plan for Change
Designing Strategies for Change
An Agile Approach to Transformation
Getting Curious About Change
The Plan for Change
In charting a course to bigger and better ideas, a clear change management strategy helps to identify a direct path forward. Creating a thoughtful change management strategy allows you to plan several steps ahead and steer change in your favor.
The most intentional change management strategies focus on proactive change. The following are key elements in creating a proactive path for change:
1. Prepare to Plan
Preparing to create a change management strategy is essentially planning to plan. As you consider the best approach to creating change, take time to map out each step of your strategy. While it may seem more effective to just dive in, remember that intentionality is the name of the game in lasting change. 
FREE DOWNLOAD
Get Our Change Journey
Every change journey is unique. Use this template to visualize and embark on your change journey in a sustainable way. You'll start with the end in mind and then moving backwards through each step until you get to your original starting point. This allows important but non-obvious steps to emerge so that you can better anticipate the future.
2. Cultivate Transparency
Many changes are unexpected and unwanted. For this reason, many organizations make the mistake of keeping changes quiet from the rest of the team. However, this type of secrecy can sabotage your organizational transformation.
Make it a point to cultivate a sense of transparency at every level of your organization. By including all parties in your plans for change, you'll get a head start on driving innovation. When team members feel included in major decisions like a big change, they are more likely to accept and support it going forward.
3. Encourage High Tolerance
Tolerance for change is a muscle that should be exercised. Challenge your team members to fight their resistance to change by sharing the benefits of change. Explaining "what's in it for me" gives team members a reason to root for change while increasing their tolerance for the unknown.
4. Monitor and Measure 
Just as true change is a long-term endeavor, creating a change management strategy isn't just a one-time event. Successful strategies for change will never be static, making monitoring and measuring key performance indicators a perpetual part of the change management process. 
Design a fluid change management strategy by teaching your team to measure success, monitor potential problems, and resolve issues as efficiently as possible. This way, your strategy for change will evolve according to your needs.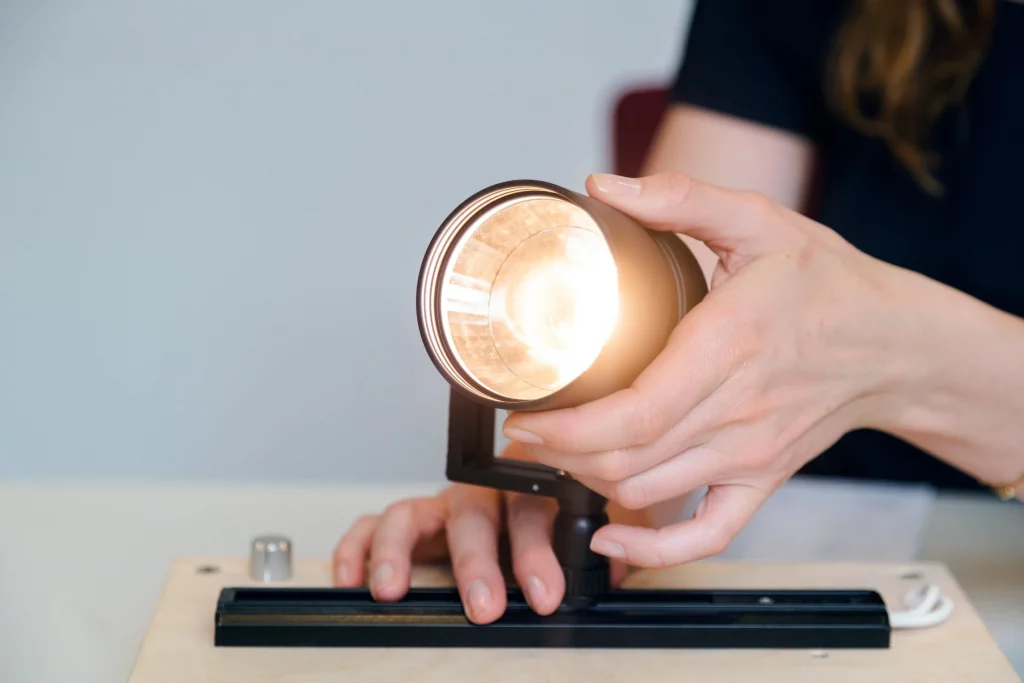 Designing Strategies for Change
A design thinking change management strategy places team members at the heart of a change. This people-first approach to purposeful change lets team leaders curate a strategy with the greatest benefits for all parties involved. At Voltage Control, we explore design thinking as a change management practice to inspire the most innovative ideas, allowing team members to shape new initiatives together.
Apply design thinking to your change management strategy in the following ways:
1. Find the "What" of Change
Design thinking facilitates purposeful change. Shape your change management strategy by determining the "what" of your change to inform your path to the most viable and innovative solutions.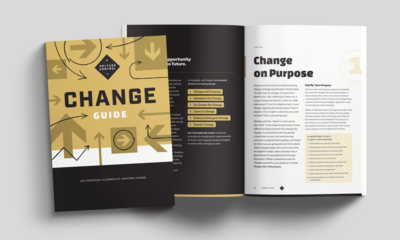 FREE DOWNLOAD
Get Our Change Programs
We help leaders and teams thrive through change to fully unleash their potential through embedded learning experiences focused on facilitation, collaboration, psychological safety, and play.
2. Center Empathy
Successful changes tap into our emotions. Design thinking cuts to the heart of a change by prioritizing empathy from the very beginning. Harness empathy in your next change by considering your team members' mindsets and perspectives before implementing change. Continue to research how all participants will be impacted by a change as you incorporate empathy into your change strategy.
3. Use Divergent Thinking
Employ divergent thinking in your change management strategy. Through a design-centered approach, shape a plan for change that encourages collaborative thinking, integrated innovation, and holistic decision-making. 
4. Practice Constant Experimentation
Experimentation is the beating heart of design thinking. Make the strategizing process more tangible by testing new ideas and running experiments to see what works. By testing an idea on a small scale, you'll be able to make the necessary changes to help shape your initiative for real change. 
An Agile Approach to Transformation
An agile approach to change management zeroes in on a faster, more urgent need for transformation. Agile principles offer a valid framework for transformation. Agile is tailor-made for systemic problem-solving, allowing team members to find the most groundbreaking solutions to the most persistent problem.
According to Carie Davis, a corporate innovation specialist, inventing new methods for problem-solving is the key to driving innovative change. Regardless of how powerful an initial initiative is, lasting change won't take hold until it truly transforms an organization. For this reason, Davis suggests that businesses initiate long-term shifts by starting small and by making little changes at the core of the company. These smaller changes are a key part of Agile change management strategy and are instrumental in catalyzing lasting transformation.
Consider applying agile methodology to your change strategy in the following ways:
Go Lean
Focus on a change strategy that provides increased value and positive change. Going lean allows for rapid transformation by limiting factors that waste resources, energy, and time.
Practice Continuous Improvement
Agile champions continuous improvement through small changes over time. These small changes lead to the most significant shifts.
Encourage Employee Authorship
Innovative change doesn't happen with a top-down approach. Create an agile-informed change management strategy by bringing your employees into the decision-making process. This way, all team members can determine the most pressing areas for improvement and make meaningful contributions as they work together to co-create the next change. 
Practice Reflective Improvement
In shaping a change management strategy to grow with your organization, practicing reflective improvement guarantees consistent long-term change. Regularly evaluate your organization's performance and initiatives as you continue to shape your change management strategy into a better, leaner plan.
Getting Curious About Change
In designing the most innovative change management strategy, don't forget to consider a sense of curiosity. Thrive through change and drive innovation by cultivating a curious desire to be better than ever.
Research shows that curiosity allows us to welcome new experiences with less defensiveness and aggressiveness. By responding to the unknown in uniquely positive and inquisitive ways, your teams can dream up the most imaginative solutions on their path to lasting change.
In addition to helping teams accept change, facilitating a sense of curiosity is an essential component in designing an innovative workplace. In creating a culture of curiosity, you'll encourage team members to become change agents themselves. With a desire to learn more, be more, and do more, you'll be able to reframe the potential pitfalls of change and the fears that come with it as an opportunity to get better and better.
Innovation and change are infinitely interconnected. Harness the power of both by designing a change management strategy that continues to transform your organization in the best ways possible. Explore our offerings to learn more about taking change management to the next level.
Looking to connect with Voltage Control
Let's get the conversation rolling and find out how we can help!