I was first introduced to Marcus when I read his post on medium titled: "Why Your Programmers Just Want to Code". The article was quite popular. Like many folks, I was prepared to hate this article and one I started to read it, I realized Marcus had a played a trick on me. He went on to explain that even the most customer-focused engineers can't do so in an environment that doesn't reward or encourage the behavior.
I invited Marcus to speak at the first annual Austin CTO Summit. His talk was a simple note card based activity that he facilitated from the stage. The premise was for everyone to write down ideas for how to improve the summit and the suggestions would be judged based on seniority and or criteria specific to each individual. His simulation demonstrated that systems like this discourage many people from sharing thoughts and stifles innovation.
I'm excited to help bring Marcus to Austin on July 16th and 17th at Capital Factory where he and his wife will lead their Technical Leadership Workshop.
Great skills are not enough
You're part of a solid team where everyone has great skills and are passionate about their craft. You use agile, or scrum, or Kanban. You have modern tools and frameworks. Everyone's working hard, putting in the long hours.
"My team was good, but something was getting in the way of being it great." — Workshop Attendee
The industry is filled with success stories about great software teams. Teams that deliver amazing things with very few people, under incredible pressures. Teams that collaborate, cover for each other, and focus on providing innovative products together. What are they doing differently?
Create an environment where everyone is fully engaged
Beyond Agile. Beyond Teams. Beyond Culture. Remember how excited you were when you heard about agile? The manifesto states that "The best architectures, requirements, and designs emerge from self-organizing teams." The scrum framework adds to that idea by stating, "Self-organizing teams choose how best to accomplish their work, rather than being directed by others outside the team."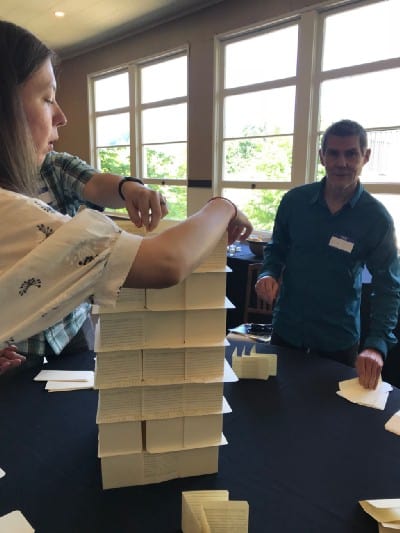 The Workshop
I'm bringing Marcus back to Austin for a 2-Day workshop focused on technical leaders. In the workshop, you will learn out to help your team perform at their best.
This is a hands-on workshop that will leave you with practical methods and solutions for improving how you and your team work together. The workshop is limited to 26 participants to guarantee an intimate and focused environment to maximize learning.
You'll participate in engineering simulations which will challenge you and create "sticky" lessons that you'll internalize and take back to your team.
Price: $2,099 per seat
Who should attend?
People who influence, organize, lead or manage smart technical people in order to achieve business goals.
Tech Leads, Project Managers, CTO's, QA Managers, Product Owners, Directors, Software Managers, ScrumMasters who want to improve leadership skills.
Engineers, Programmers, Testers, and Architects who want to help their teams work better from the inside.
Day 1
[AM] Navigating Change and Learning
Learn the difference between leading and managing
Understand why change is hard, and how to help your team navigate it
Uncover how to introduce self-forming project teams to your organization
Use the Piaget learning cycle to build personal and team improvements
Connect hands-on design exercises to real-world situations
"The debrief following each exercise provided ample opportunity for deep thinking about how we approach team dynamics, leadership, communication, etc. within our organizations." — Workshop Attendee
[PM] Building A Productive Team Environment
Learn the MOI(J) model of leadership
Put your team's ideas into practice in the real-world
Hone your observation and feedback skills
Improve your retrospective and structured debriefing skills
"The program revealed traits I want to avoid as a leader." — Workshop Attendee
Day 2
[AM] Improve Communication about Requirements and Design
Observe the impact of time pressure on technical communications
Improve communication about complex technical tasks
Understand the cost of assimilating new members into a team
Identify real-world areas of improvement for your team's communication practice
"I gained insight into what might demotivate people." — Workshop Attendee
[PM] Removing Silos and Low-Bandwidth Communication
Improve communication with remote engineers
Understand the role of conversation in communication
Observe the effects of silos on team motivation
Observe the effects of Management by Walking Around
Build proficiency in leading through asking, rather than telling
"Seeing the Satir change curve really helped me recognize that the feelings I had against change were something that affected everyone, even if there is a little difference between each of our experiences." — Workshop Attendee
Space is Precious
This unique, hands-on workshop is held in small venues where the facilitators constantly interact alongside participants during the workshop.
Each workshop is limited to only 26 participants to ensure everyone has the best experience possible. These workshops fill up fast, so register today.
"You Gotta Love It" Guarantee
All of Marcus' workshops offer a "You Gotta Love It" 100% money back guarantee. If you attend and feel the workshop was a waste of your money and time, they will issue a full refund, no questions asked. If you're not happy, we don't get paid. It's as simple as that.
"I continue to work one-on-one with Marcus to this day, and I hope I will always be able to lean on him and dialog about challenges He is worth way more than you can ever pay him." — Andrew Coven, Senior Director of Platform Engineering, Box.com
About the Facilitators
Their goal is to revolutionize the world of work for engineers and those who lead them. They believe that every engineer deserves a good boss, and that any engineer can become one. They stand apart from those who preach that "Leaders are born, not made", proudly helping great coders become great leaders.
When you sign-up you they meet them, Marcus and Amy. They aren't a large corporate team with an army of drone trainers. They're a small, Oregon based team who does 100% of the training ourselves. They create and test their own curriculum. They live and breathe this stuff, and it shows.
Marcus Blankenship
Marcus has worked as a Software Engineer, Architect, Team Lead, Software Manager, Consultancy Owner, College Instructor, Leadership Coach and Business Coach. He specializes in helping Technical Managers and Leaders create high-performing organizations.
His book, Habits That Ruin Your Technical Team is now available. He is currently pursuing an I/O Psychology Degree (Leadership Specialization) from Penn State and lives in Eastern Oregon.
Amy Blankenship, RN, BSN, MSN-Ed
Amy has worked as a Nursing Instructor at Oregon Health Sciences University, specializing in clinical simulations and interprofessional instruction. She has also worked as a post-surgical nurse, hospice nurse, and a hospice clinical manager.
She currently serves as an Executive Board Member of Klamath Hospice, on the Oregon State Board of Nursing Curriculum Council, and as a leadership mentor for the Oregon Nurses Association. She will enter a Ph.D. program in 2018 and also lives in Eastern Oregon.