First I'd like to thank our speakers. Without them and the brilliant content they prepared and shared on Tuesday, we would not have had a successful event. Our volunteers were incredible and certainly kept my stress levels low! Thank you, Scott, Enrique, Kim, Chloe, Chandler, Alan, and Josh. I would also like to thank the Voltage Control facilitators. The facilitated networking sessions were a big hit, and I'm grateful that Anna, Jane, Daniel, and Reagan were able to help make that a reality.
A big thanks to all of our sponsors. They were all a pleasure to work with, and I hope you have an opportunity to work with them. I've included them at the bottom of this post.
It was an absolute pleasure working with Peter from CTO Connection. If you have an opportunity to check out one of his other summits, I highly encourage it. He's an outstanding guy and puts on a super event.
"To get over 100 senior engineering leaders in a room for the inaugural conference was an incredible feat." — Peter Bell, CTO Connection
For those of you that weren't able to make it to the Summit, I've collected a few quotes from attendees and wrote a quick overview of each of the presentations. I hope you enjoy
---
"I've been waiting several years for an event like this in Austin. The conversations and presentations were great, and I'm already looking forward to next year!" — RC Johnson
RC Johnson is the manager of Indeed Labs and member of Austin Technology Executives. Tracing things back, one could argue that he's the reason I know Peter. He introduced me to the New York CTO School and then years later I followed a CTO School posting about the NASDAQ CTO Summit which is how I met Peter. RC was the first person to register for the 2018 Summit and promised me that he'd be the first to register for the 2019 Austin CTO Summit.
"Great combination of networking, content, and presenters. The format was engaging with nice, short talks, and packed a ton of intel." — Allen Darnell
The structure of the 2018 Austin CTO Summit consisted of blocks of 3 20-minute talks followed by a break. There were a total of 5 blocks, 2 in the morning and 3 in the afternoon.
Jim Colson — Designing, Engineering, and Delivering Products for a Full Lifecycle of Engagement
Jim Colson, who recently retired as CTO of IBM Watson Customer Engagement, is currently advising startups on technology and business strategy. Jim talked us through a model of how to think about users and where a specific set of users are in their overall journey through your engagement lifecycle. I enjoyed his concise and accurate definition of the difference between product and offering. He encouraged us to consider how we might improve our customer experience by thinking about offerings rather than fixating at the product level.
"The Austin CTO Summit was an incredible event of information exchange, networking, and insights across both large and small companies. It is extremely valuable for any CTO and I am already looking forward to the next one." — Jim Colson
Lynn Pausic & Chris LaCava — Vital Role of Humans in Machine Learning
Lynn and Chris of Expero warned us of the dangers of using bias data to train your ML models. They presented a case study in which their client was interested in a decision support system for determining creditworthiness. When training their model, they used income levels and inadvertently discovered that there was a major bias against loans for women. This is a topic I've been thinking about for a bit, and Chris mentioned something that I hadn't considered yet. As AI becomes more ubiquitous and models are white labeled, developers without the statistical skills to identify or address issues are using these models will start to use them without understanding their origins and it will be critical that bias is easily exposed and mitigated.
"The intermingled networking exercises were a great way to connect with the many tech leaders who attended. I'm looking forward to 2019 Austin CTO Summit"- Enrique Ortiz
Cynthia Maxwell — Keeping Your Team in the Flow
I first discovered Cynthia Maxwell when I read "Track and Facilitate Your Engineers' Flow States In This Simple Way", an article she published on First Round. I enjoyed the article, and the concept stuck with me. As Peter and I began recruiting speakers, I reached out to Cynthia to invite her to speak. I was delighted when she accepted. Her presentation further elaborated on the concepts in her article. My favorite part was when she pointed out that many engineers are not accustomed to or trained on giving negative feedback. This simple visual feedback mechanism can be used to as a starting point to tease out more critical detail.
"The first Austin CTO Summit felt like an event that had already hit its stride — I look forward to seeing how much better the next one will be! "— Bryon Jacob
After Cynthia's talk, Anna Jackson lead the room through our first of 5 facilitated networking exercises. The audience totally embraced this and the room erupted with conversation. As the exercise wrapped up, the energy spilled into the hallway and we took our first break of the day.
---
Bryon Jacob — Seeds of Scale — Lessons For Startups Learned Through Growth
Bryon Jacob, CTO of data.world, spent many years at HomeAway where he saw the company scale from 30 people to 2000 people and acquire 30 other companies. Upon reflecting on those years at HomeAway, there were decisions he appreciated and decisions he wished he could go back and change. When founding data.world Bryon sought to repeat the good ones and avoid the bad ones. His talk shared some of this wisdom. One of my favorites was the idea that technical debt is a measure of uncertainty.
"Bryon's talk featuring his "definition of done" criteria was clear and concise, perfect for sharing with my team. It will provide a great reference for assessing and formalizing our "done" criteria here at Capson Technology." — Scott Artman
Vikas Parikh — M&A and Technology
Vikas works with business leaders to help who are buying, selling or reshaping a company. He offered the audience a bit of perspective into the M&A market and the things you should consider. His advice is to think far in advance and be prepared for the inevitable day.
"The short, fast-paced presentations revealed connections between seemingly unrelated ideas, opening up tons of new possibilities for me!" — Marcus Blankenship
Will Ballard — Scaling Self-Directed Development
I would hazard to say that Will's talk was the most provocative. My pal and resident complexity junky, Daniel summed it up the best when he summarized Will's talk as a case for disintermediation. Will presented and practices a system where all projects are approved based on the business merits and income potential. There are no estimates or deadlines enforced, and his team selects the projects they want to work on. Perhaps the most intriguing to me was Will's comment that his system resulted in nearly 0 employee churn which was a problem due to lack of new ideas that typically come from new hires.
"It's not often that CTOs get to take a step back from their day to day to learn from each other and be inspired. Austin CTO Summit did just that. Bravo" ~ Etienne de Bruin, Founder 7CTOs
After Will, Jane Westfall led us through another set of networking and lunch was served. During lunch, we provided supplies and topics for lean coffee. Attendees ate lunch while discussing a familiar topic with a dash of structure to keep things moving.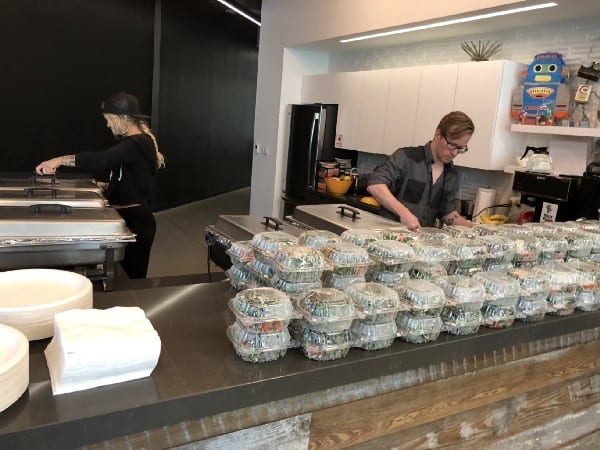 ---
Heather Rivers — Lessons from the Black Box
I saw Heather Rivers give this talk at the NASDAQ CTO Summit last December. I enjoyed it so much that I asked her to come talk in Austin. She presented about the flight record which, once introduced, allowed officials to understand the root cause of airline crashes. These issues and the system implemented to solve them can be directly applied to software teams.
"Today, the day after the event, I was able to apply what I learned from Heather Rivers' talk on Crew Resource Management and the communication model she proposed. Effective and timely information — I am looking forward to next year." — Boyd Hemphill
Vivek Sagi — How to Dive Deep & Mechanisms to Help you Scale your Tech Org
Vivek began by pointing out that diving deep is easy when managing one team. We have tools like standups, 1:1s, design reviews, retrospectives, and demos. Then he posed the question: how do we replicate this for larger organizations? He presented a perspective that most leaders operate within the organization and product scope and never diving deeper down into the component level. He provided six mechanisms for diving deeper. My favorite was his warning to pay close attention to anecdotes. He recommends to assume anecdotes are correct and look for data to prove/disprove them.
I saw that there is increasing awareness of the importance of measuring the progress of software development teams and the obstacles they face more carefully and more rigorously. "— Eddie Reyes
Marcus Carey — If I Only Had A CEO
Marcus definitely racked up the most laughs. Marcus is the CEO of ThreatCare and told us the story of his struggles as a technical founder and not always getting the support and encouragement he deserved in the role of CEO. Through the lens of the Wizard of Oz, Marcus walked us through his advice on running companies. He also left us with a few book recommendations including the fifth agreement.
"Enjoyed many of the talks and got some interesting takeaways on how others are currently approaching diversity, metrics, and culture."-Boris Portman
Cherise Esparza-Gutierrez — Toughest Words a CTO Says : Hold on the Code
Cherise provided a perspective on user testing and customer validation. As a Design Sprint facilitator and believer in user testing and solution validation, Cherise was preaching to the choir. I did find it new and interesting that she presented this work from the perspective of a CTO who was itching to write code and build things yet knew it was in the best interest of the company to pump the brakes and wait for more certainly on WHAT to build.
" The support from the audience was overwhelmingly positive and I couldn't have asked for anything more." — Cherise Esparza-Gutierrez
Meetesh Karia — Diversity in Team and Thought At The Zebra
Meetesh is an active member of the Austin Technology Executives group and often volunteers to run things when I'm out of town. I had encouraged him to start speaking publicly more often, and I was excited to host him at the CTO Summit this year. He absolutely killed it. I heard from numerous people that this was their favorite talk. He gave many actionable tactics utilized at the Zebra to improve their diversity numbers including working with Andela and adopting a policy that any candidate with an underrepresented background got an automatic pass on the first round.
"It is clear to me that the technical leaders of our generation deeply care about people. THAT really made my day." — Qingqing Ouyang
Marcus Blankenship — Why Your Programmer Just Wants To Code
When Marcus published "Why your programmer just wants to code", his bait worked, and I clicked. I was prepared to hate everything about this article and to my surprise, I was delighted. He was speaking my language. Marcus adapted the article into an interactive workshop where Summit attendees filled out notecards with ideas of how to improve the Summit next year. He then explained the overbearing process by which our ideas would be judged, including boosting ideas from more experienced individuals and pushing down scores for less qualified individuals. In the end, Marcus was painting a ridiculous picture to help shed light on how some of our own companies behaviors are indeed stifling sharing of ideas and ultimately our ability to innovate.
Eddy Reyes — Lessons From A Failed Startup — A Cynefin Retrospective
Eddy Reyes spoke to us about Cynefin. Cynefin offers five decision-making contexts or "domains": obvious, complicated, complex, chaotic, and disorder. These domains help you to identify how you perceive situations and make sense of your own and other people's behavior. Each domain has a clear set of rules to identify which domain you are currently operating in and how best to function in that domain.
"Enjoyed many of the talks and got some interesting takeaways on how others are currently approaching diversity, metrics, and culture." — Boris
Qingqing Ouyang — Unknown to Know: Building a Recognized Tech Brand for Recruiting
Qingqing's presentation was also a house favorite. She recounted her experiences shortly after joining Main Street Hub and charged with the goal of building out the development team. After her first initial attempts at hiring, she realized she had a real problem as none of the engineers had heard of Main Street Hub and they were less than excited about working on a legacy PHP monolith. It was clear to her that she needed to focus on the reason she took the job and the Main St. mission. Diving deep into the why allow her to create a vision for the Main St. Hub engineering brand and to sell from the heart. At this point, she started to grow the team.
"The CTO Summit was a nice reminder that we're all after the same thing in the end — meaningful work, progress, belonging. I look forward to the next summit!" —Reagan Pugh
Jack Humphrey — Improving the Development Process with Metrics-Driven Insights
I've known Jack Humphrey since the early 2000s when we worked together at Coremetrics. He is one of the smartest people I know and cares deeply about his people. Jack shared a process that he's been rolling out at Indeed. At Indeed they have a data collection and reporting system which they've open sourced called Imhotep. Using this tool they can ask lots of questions about whether any given change to the system should be made and when made if the desired outcome was realized. This same tool can be used to look at the number of defects generated by a specific developer and the nature of those defects.
I appreciated the diversity of viewpoint and opinion among presenters and attendees. It was great to share ideas with peers who are grappling with a lot of the same challenges. And as a presenter, I couldn't have asked for a more engaged and appreciative audience! — Jack Humphrey
After Jack closed out the speakers section, Daniel Walsh stepped in as the final networking facilitator just after I gave a few closing remarks and thanks to our sponsors one last time. Then we all headed across the lobby of the hotel for a few cocktails to end the night.
"It's impressive that this was the first year of this Summit. It ran like a conference that has been going for 5 years". — Scott Brittain
Next Year
After such a successful first year, I'm more than confident in our ability to grow and deliver an even better summit in 2019. We've extended a 50% discount to 2018 attendees. Tickets are available for sale now!
Get your tickets for 2019.
"Truly inclusive communities are built with intention. It's so good to see individuals and groups taking active care of the community they're part of. The CTO Summit represented lots of intention for me." — Angelek Marler
+ Platinum Sponsors
AnitaB.org
AnitaB.org is committed to increasing the influence of women on all aspects of technology. Our local community expands our efforts globally to help individuals all over the world — especially those who are considering or currently pursuing technical careers — to access the resources they need to reach their highest potential.
Members of the global AnitaB.org Local community network organize events and provide one another with resources to navigate careers in tech. They organize valuable meet-ups, code-a-thons, and one-day HopperX1 events modeled after the Grace Hopper Celebration.
–
Microsoft for Startups
Microsoft for Startups is committed to connecting with people and building relationships that lead to growing local entrepreneur communities. We believe that people, not companies, matter most. People come up with ideas, build MVPs, raise capital, and ultimately launch Startups (companies). Our local team in Austin is focused on supporting startups interested in partnering with us to grow on Azure.
–
Reduxio
Reduxio is redefining data management and protection with the world's first unified primary and secondary storage platform. Based on the patented TimeOS™ storage operating system, Reduxio provides breakthrough storage efficiency and performance, and the unique ability to recover data to any second, far exceeding anything available on the market today. Reduxio's unified storage platform is designed to deliver near-zero RPO and RTO as a feature of its storage system, while significantly simplifying the data protection process and providing built-in data replication for disaster recovery.
Reduxio innovates with:
Accelerated workloads with High Performing Flash Storage
Self-Protecting primary storage
Optimized storage utilization
Built-in integration with public and private cloud services and object stores
Protect and move data between on-premise storage and the cloud
Learn more at www.Reduxio.com and follow us on Twitter and LinkedIn.
+ Gold Sponsors
Atlassian
Atlassian unleashes the potential in every team. Our collaboration software helps teams organize, discuss and complete shared work. Teams at more than 65,000 large and small organizations use our project tracking, content creation and sharing, real-time communication and service management products to work better together and deliver quality results on time. Learn about products including JIRA Software, Confluence, Stride, Bitbucket and JIRA Service Desk at https://atlassian.com.
–
Creative Alignments
Creative Alignments is disrupting recruiting using a pay-for-effort model that creates a talent partnership with our clients. Aligned with growing tech companies, we place top talent at less than half the cost of traditional recruiters. Our senior team recruits across all functions in the tech space. Reinvent recruiting with us!
+ Registration Sponsor
Beacon Hill Technologies
+ Morning Break Sponsor
7 CTOs
+ Evening Reception Sponsor
Stride
Atlassian's Stride is a complete team communication solution built from the ground up to help teams more effectively work together. Stride was built to solve the biggest problems of team communication by bringing together context, conversations, and collaboration into one powerful product, allowing teams to move work forward. Our brand new communication solution has best-in-class team messaging, audio and video conferencing, and collaboration tools.
+ Community Sponsors
Ruta Maya Coffee
Allstacks
–
Austin Fraser Ltd
–
Beacon Hill Technologies
–
RetailMeNot
–
KungFu
–
IBM

---