Voltage Control is proud to partner with Capital Factory in welcoming you to a distinguished panel of experts discussing Inclusion and Diversity. The panel covers a range of perspectives including companies with established programs, companies just getting started, thought leaders, and services organizations helping others design and execute internal programs.
Join us at Capital Factory 1st Floor on March 10, 2017 12:30 PM — 2:30 PM. The panel will consistent of a moderated discussion followed by audience Q&A. There will also be facilitated audience interaction as well as printed resources to help you implement inclusion and diversity at your company.
Food and beverages are complimentary.
WHO IS THE EVENT FOR?
Inclusion and Diversity leaders in tech, entrepreneurs, engineers, and the men and women who support and invest in inclusion diversity.
Confirmed Panelist
Aubrey Blanche — Global Head of D&I @ Atlassian
Aubrey Blanche is the Global Head of Diversity & Inclusion at Atlassian. There, she works with teams across the business to provide greater opportunities for everyone to join Atlassian and do the best work of their lives there. Her work spans the talent lifecycle from increasing access to technical education for underrepresented minorities through recruiting, retention, and advancement of all Atlassians. She relies heavily on empirical social science in her work, and has developed a new team-level paradigm for external diversity reporting. She believes that leading with empathy is the key to driving meaningful, sustainable change and creating highly effective teams.
In all areas of her work, she seeks to design effective interventions, programs, and talent practices that create equal opportunities for all Atlassians, and for the global tech industry. She is heavily involved in multiple industry groups seeking to define new standards for company transparency, reporting, and investment in diversity & inclusion. She is an advisor to SheStarts, a Sydney-based accelerator focused exclusively on supporting female founders, BeVisible, and Joonko. She is the co-founder of Sycamore, a community aiming to fix the VC funding gap for underrepresented founders.
Bernard C. Coleman III, Global Head of D&I @ Uber
Bernard is the Global Head of Diversity and Inclusion (D&I) and he drives the D&I programs through meaningful relationships, both internally and externally, as well as promotes Uber as a leader in ride sharing, and as a forerunner in D&I engagement. Prior to Uber, Bernard led Hillary for America's D&I and HR initiatives, as the first ever Chief Diversity and Human Resources Officer in U.S. history for any presidential campaign and political party. Bernard's written for Forbes, Catalyst, SHRM and his insights have appeared in the Nasdaq Government Clearinghouse and the Huffington Post. Bernard holds an M.B.A. from Trinity University, a B.A. in psychology from Hampton University, a Strategic Diversity and Inclusion Management certification from Georgetown University, and is a graduate of the University of Virginia's Sorensen Institute for Political Leadership.
Get Our Build & Lead Your A-Team
Assemble your team and lead them through the different phases to keep building toward the big idea.
Christina Sass — Cofounder and President @ Andela
Christina Sass is the Co-Founder and President of Andela or, as CNN has called it, "The startup that's harder to get into than Harvard".
Founded on the idea that brilliance is evenly distributed but opportunity is not, Andela aims to train 100,000 world-class software developers in Africa over the next 10 years. To do so, Andela has created a new model of education that funds itself through the work we do: training brilliant young software developers and placing them with top international companies. With a .6% acceptance rate, Andela is the most selective tech training program in Africa and has been featured by Wired, CNN, The Today Show, The New Yorker, The Wall Street Journal, and many others.
Prior to Andela, Christina built education and employment programs in China, Gaza and the West Bank, Kenya, and her home state of Georgia (Go Dawgs). Christina serves on the Advisory Council of the NYU Stern Center for Business and Human Rights and on the board of the non-profit, the Global Give Back Circle. She also serves as education topic expert for the Clinton Global Initiative University annual meeting. She was named as a 2014 New York Business Journal "Women of Influence", a 2015 Business Insider "23 most innovative and inspiring women in New York City Tech" and a 2015 University of Georgia "40 Under 40" Alumni.
Kimberly Strong — Founder and CEO @ Strong Connexion
Kimberly Strong is the Founder and CEO of Strong Connexion, LLC., a human resources consulting boutique firm that specializes in advising start up tech and venture capital firms on building workplaces with high levels of employee engagement and positive corporate cultures. She also recently joined Pipeline Angels as an Angel Investor where she invests and advises women-led and non-binary femme for-profit social ventures.
Throughout her 20+ year career in human resources across consumer focused industries, Kimberly has promoted corporate objectives and organizational growth through creating and implementing talent acquisition strategies, diversity and inclusion initiatives, and education programs. As an innovative leader, Kimberly understands the importance of aligning all stakeholders and customizing managerial principles to create efficiencies, offer seamless customer service and drive improvements in the workplace experience.
Prior to her current role, Kimberly served as the Vice President of Diversity & Inclusion (D&I) at Target Corporation. In this role, she facilitated communications, education and training plans that increased awareness and understanding of D&I and maximized employee engagement, impacting over 366K employees across 1,795 stores and 38 distribution centers. She also collaborated with the Chief Human Resources Officer and the diversity analytics team on ways to identify, track and measure success.
Kimberly's dedication to education, mentorship and advocacy are also evident through her community involvement. She has taken on leadership and committee roles with The All in Together Campaign, where she supports the empowerment of women to drive change, and the Executive Leadership Council, an organization that helps develop global black leaders. Furthermore, she is proud to have received the Howard Business School Alumni Exemplar Award recognizing her work as a mentor to students.
She received her B.A. from Howard University in Washington, DC.
Melinda Epler — CEO @ Change Catalyst
Melinda Briana Epler has more than 20 years of experience elevating brands and developing business innovation strategies for social entrepreneurs, mature social enterprises, Fortune 500 companies and global NGOs.
As Founder & CEO of Change Catalyst, Melinda empowers diverse, inclusive and sustainable tech innovation through events, education, mentorship and funding. Through Tech Inclusion, an initiative of Change Catalyst, she partners with the tech community to solve diversity and inclusion together. Her work spans the full tech ecosystem, from Education to Workplace, Entrepreneurship and Policy.
Melinda speaks, mentors and writes about diversity and inclusion in tech, social entrepreneurship, women entrepreneurs and investing. She is also an award-winning documentary filmmaker — her film and television work includes projects that exposed the AIDS crisis in South Africa, explored women's rights in Turkey, and prepared communities for the effects of climate change. She has worked on several television shows, including NBC's The West Wing.
Sandi Mays — CIO & EVP @ Zayo Group
Sandi Mays is a founder and EVP, CIO & Service at Zayo Group, a leader in global telecommunications providing bandwidth and connectivity over an exceptional network infrastructure. Sandi's passion is providing an effortless customer experience for both internal and external customers.
Previously, Sandi served in various management positions at ICG Communications, Level 3 Communications, MFS Telecom, WorldCom, Focus Enterprises and Northern Trust.
Sandi is a champion for diversity in the tech community and serves on the Board of the Latino Leadership Institute, the Salesforce CIO Advisory Board and the Denver Metro Chamber Economic Development Executive Committee. She is also a patron/supporter of the Denver Art Museum, the Colorado Ballet, Denver Performing Arts Center and Greenhouse scholars and an active member of many minority and diverse charities. In 2016 Sandi was named the 2016 Most Inspirational Woman in Communications by Women in Communications (WIC). She earned a B.S. (magna cum laude) in Finance from DePaul University.
Follow @SandiMays
Trey Boynton — Director of D&I @ Duo Security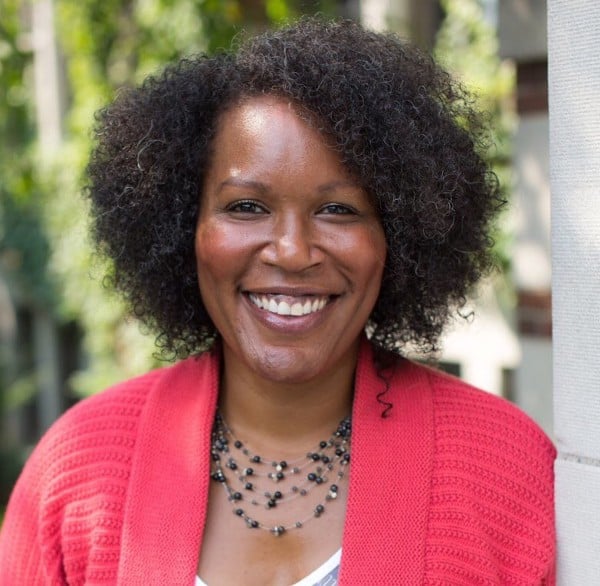 Trey Boynton has spent her professional career working to create inclusive environments. For nearly 20 years, she worked in university settings working with students, faculty and staff in diversity leadership roles. She joined Duo Security in August 2017 as their first head of diversity and inclusion to guide overall strategy and connectedness initiatives.
For Trey, inclusion work is deeply personal. She describes it as head and heart work centered on creating space so that employees are valued, celebrated, and able to define their own success. In short, her ultimate goal is to reduce barriers to brilliance.
Originally from her beloved northern California, she studied at Spelman College, Georgetown University and the University of Michigan. Her most important job is helping her two young feminist daughters continue to be awesome. In the two minutes of time she has left to spare, she fancies herself a furious colorer, a haphazard crochet-er and an expert on all things Jane Austen.
---
Voltage Control facilitates innovation workshops and we specialize in Design Sprints. Please email Douglas at douglas@voltagecontrol.co if you are interested in having us facilitate your Sprint, coach your team on how to run an effective Sprint, or are curious to learn more about how to adapt Design Sprints or other workshop techniques to help your company or product.
---
If you are in or near Austin, come visit us at the Austin Design Sprint meetup. Each month we have a guest speaker share their experience participating in a Design Sprint . If you would like to be a future speaker please email me.