Control the Room is now Facilitation Lab Summit
---
Last week we hosted the second annual facilitator summit, Control The Room, at Austin's Capital Factory. We launched the summit last year in partnership with MURAL to create a space for facilitators to gather, break down the silos, and learn from one another.
This year we welcomed 24 speakers who shared their insights and strategies of successful facilitation.
The three-day summit is a rare opportunity to bring together an otherwise unlikely group of highly experienced and skilled professionals across various industries and crafts—from strategy consultants and negotiators to Scrum Masters and design thinkers.
Anyone interested in deepening their knowledge on how to successfully facilitate meaningful meetings and connect with other practitioners is welcome. Together, we dive into diverse methodologies, expand upon perspectives, and learn new insights and strategies that enrich our expertise.
This year we had the pleasure of welcoming 24 speakers, all innovation professionals, who shared their insights and strategies of successful facilitation.
Read on for summaries of this year's "Control the Room" presentations.
Opening Speaker: Douglas Ferguson
Voltage Control's founder and president, Douglas Ferguson, started the day with an introduction in how to break down the silos of facilitation and bring people together.
He reminded the group that the mission and method of the summit are to seek out diverse perspectives and share them.
"We condition ourselves so we can recondition ourselves."
Solomon Masala
Solomon Masala is the founder of the Source Consulting Group, a team-building organization that helps companies build skills experientially to change behavior by being directly involved in the learning process.
Solomon spoke about his experimental approach and broke down the seven elements of operating experientially:
Objectives for skills: Skills that make your team better.
Practice behaviors: Be accountable for consciously practicing the actions that lead to success.
Total immersion: Be engaged via intellect, emotion, and physical immersion.
Doing the learning: Examine the access channels for learning.
Risk, failure, and safety: Failure is part of the experience, high perceived risk is a powerful way of engaging and should be inherent, but the emotional and physical safety should be ensured.
Wisdom gather: The debrief. The time to synthesize and analyze for relevant use in skill development and behavior change, and transfer the learning from the experience into the real world.
High fun potential: Keep it fun, but above all, keep it safe.
Lynda Baker
Lynda is the Founder and Principal Consultant at MeetingSolution. Her talk answered the enticing question, "Why is it that people crave community but hate meetings?" Lynda spoke to where facilitation meets fung shui and the purpose it serves in removing tension and blocks that appear in a meeting, so that the energy in the room can flow freely across the metaphysical, metaphorical, and practical planes.
"Like yin and yang, we move fluidly between the known and unknown."
Lynda went on to break down the eight principles of feng shui bagua, a yin and yang energy map, and how they relate to the roles of a facilitator by sharing her meeting bagua.
Justin Foster
Justin Foster is the Co-Founder of Root + River.Justin's presentation, "Leadership Presence: Where Inner Work Meets Outer Story," outlined the importance of incorporating and sharing one's own identity, creativity, and intuition to serve as the sustainable foundation from which to operate and lead most effectively as a facilitator. From this base, individuals can then express their originality, the craft of self-expression, and empathy to create a deeper connection with the audience.
Justin explained that to become an elite facilitator, one must take risks and be okay with failure.
He shared four practices to do so:
1. Practice of physicality / movement: the more in shape you are, the more confident you feel. It's no coincidence that all the great leaders are walkers and pacers.
2. Practice of intellectuality: regularly discover. A state of perpetual learning to expand your database.
3. Practice of emotion: if you have untreated emotional wounds, it will affect you in your craft. Continue to examine yourself and your practices. Witness your own emotions and feels
4. Practice of spirituality: three S's (stillness, silence, solitude) if you do the three, it allows you to grow and hone your craft.
Emily Jane Steinberg
Emily Jane Steinberg is a Visual Facilitator and Scribe at Delineate Ink, LLC. Her presentation was entitled: "Beyond Our Blind Spots — Seeing Context in a Changing World." Her activities and lecture centered on the concept of awareness and how to expand it from a place of tunnel vision to see, identify, and ultimately eliminate our blind spots to more successfully help clients spot theirs.
This self-evaluation is rooted in answering the questions: What biases do I have? What biases do I carry? What biases do I experience? Once these answers are identified, an individual must then go a layer deeper to uncover the unconscious biases they have and carry, and return to expanded awareness to determine what the problem is they are trying to address and solve; they must move from deductive and linear thinking to systematic thinking.
Emily Jane Steinberg on networking: "Building a net that works, building relationships based on principle and human values."
John Fitch
John Fitch is the Chief Product Officer at Voltage Control and Co-author of Time Off. He presented on rest ethic and the importance it plays in the facilitation of culture. Through breathing activities, John demonstrated the ebb and flow of work and rest ethic and how to navigate and balance them in our own lives and professional practices.
Each inhale represented work ethic: how to get things done, execute, coordinate, manage, and fulfill tasks and duties.
Each exhale represented rest ethic: space for deep, internal work, expanded awareness, creativity, and time off. He explained that we need both ethics to avoid burnout and help individuals be effective facilitators for their companies.
John challenged the room to apply their rest ethic more in workshops and business culture.
J. Schuh
J. Schuh is a Design Strategist at Sabre and Design Thinking facilitator. He spoke about the importance of sharing stories through "story stacks"—a collection of stories that facilitators can call upon to tell at a moment's notice to communicate a lesson learned or an idea they are presenting.
He explained that storytelling is an effective way to build connection and trust in the room because our brains react positively to stories, making us think we are part of the narrative.
J. shared that each story stack should include a goal, character, conflict, and resolution. He said great story stacks have the power to:
Win hearts
Change minds
Get results
Control the room
Panel
Kellee Franklin, Founder & Chief Innovation Officer at Mindful Innovation Labs, served as the moderator of our Dynamic Panels: Designing & Facilitating Meaningful Discussions. Four panelists shared their perspectives: Sam Schak, Senior Project Manager at Handsome; John Hawley, Workshop Wizard at JWH Enterprise LLC; Jay Melone, Innovation and Facilitation Coach at New Haircut, and Shipra Kayan, a Remote Design Sprint Facilitator.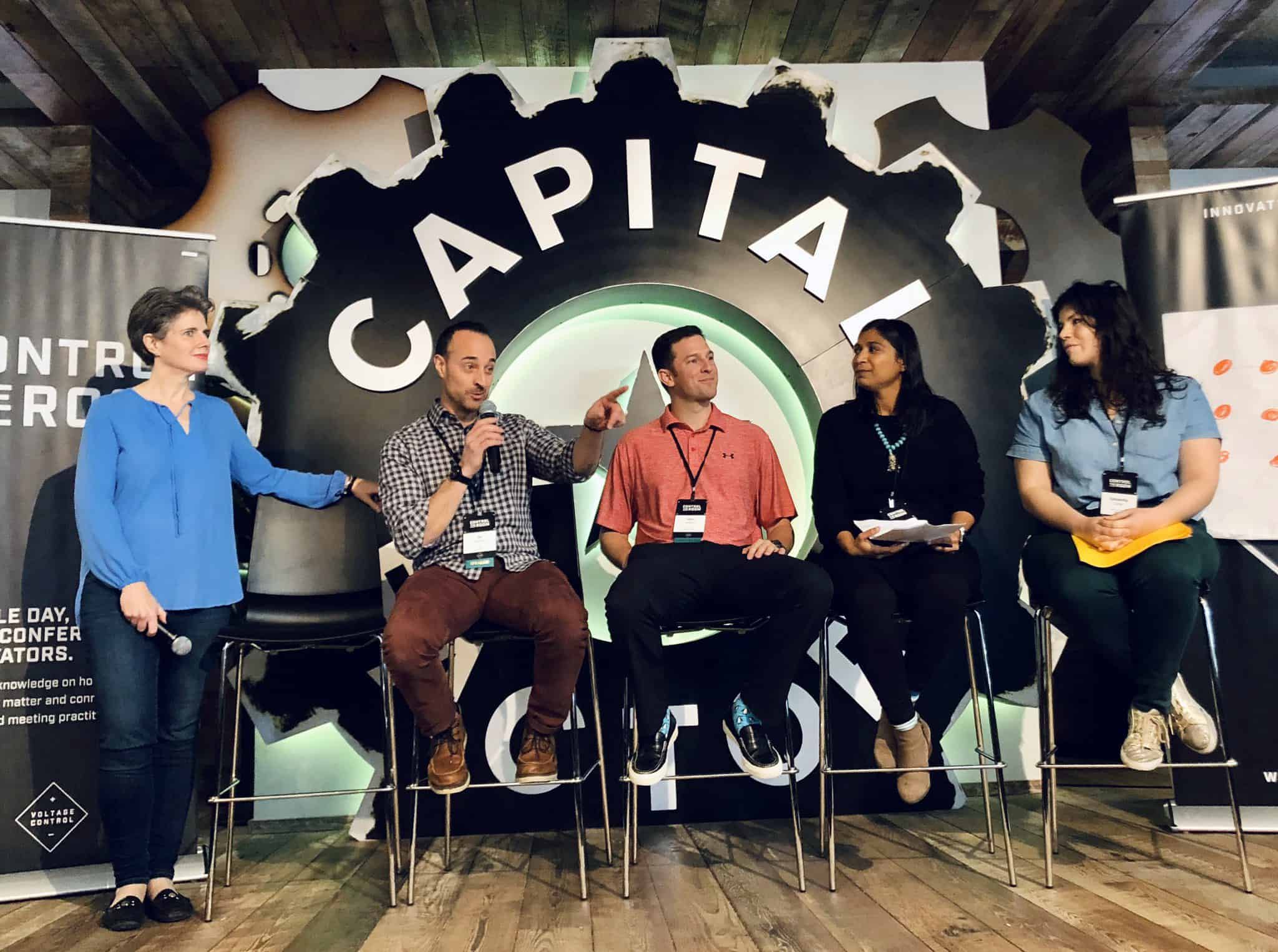 They spoke about their own experiences overcoming challenges as facilitators including: how to keep moving forward when not everyone in the meeting agrees, how to get the group to discuss the undiscussable, how to handle conflict in a workshop, how to avoid shallow philosophies, and how to go beyond just talking about the work to talking about what the group will work on together. They also shared facilitation fears and the most meaningful aspects of their work thus far.
Daniel Stillman
Daniel Stillman is a facilitator, workshop leader, designer, writer, coach, speaker, and teacher who works to craft impactful workshops and transformational learning experiences to help teams work better together.
He led the group through a series of activities to illustrate the importance and benefit of leaving space for ideas that you don't agree with.
Sunni Brown
Sunni Brown is the Chief Human Potentialist at Sunni Brown Ink, a creative consultancy and agent of social change. Sunni's presentation— "Seeing Past Your Me: How to Facilitate from a Place of Deeper Wisdom"—illustrated the impact of equanimity on effective facilitation.
"Equanimity means we all practice a state of physiological composure distributed by strong emotions, expressions, and other phenomena in which others have temporarily lost the balance of theirs."
Sunni explained the difference between facilitators that are "strong with force" versus "drunk with power." Facilitators with force possess and practice: curiosity, deep listening, responsiveness rather than reaction, self-responsible, and are firm but not aggressive.
Conversely, facilitators focused on self-power are reactive rather than responsive, dominate/tightly control the room, and conspire with harmful behavior if it colludes with power.
Johnny Saye
Johnny Saye is an Innovation and Design Thinking Coach at Alliance Safety Council.
Johnny shared his facilitator's guide to energizing groups. Through a series of interactive games and activities, Johnny demonstrated the necessity of lateral thinking to come up with creative solutions to problems, creating better and faster results.
He spoke about three strategies to avoid TLDR and best stimulate a group:
Play with purpose
Make it a memory
Never grow up
Shannon Stott
Shannon Stott is the Owner of Shannon Unlimited. She uses the elements of comedic improv, including storytelling and quick thinking, to help people become more dynamic speakers, deepen their engagement with clients and audiences, and strengthen team productivity.
Her presentation, "Stick to Your Shit," focused on how individual success translates to group success. Shannon led the group through exercises to figure out how to realize body signals that either promote and hinder confidence.
She explained how personal hesitations translate negatively when facilitating: the audience does not trust a facilitator that hesitates, and the inability for a facilitator to identify uncertainty in a group prohibits them from successfully facilitating. To avoid this, one must be able to locate their hesitations and any that exist within a group they are leading.
Jordan Hirsch
Jordan Hirsh is the Director of Innovation at Phase2, a Digital Experience agency that helps companies create meaningful experiences, develop and integrate systems, drive business results, and operate at speed and scale.
He presented on how to facilitate the fun in meetings by incorporating improv. Jordan led the room through a "yes and" exercise that demonstrated the value of accepting and responding, and how it translates to the mind of a facilitator to help them respond to the expected and unexpected.
He explained that accepting does not mean always mean agreeing, and that responding is greater than reacting. Jordan demonstrated that improv helps individuals be present and accept and build trust; it is a liberating structure in one's mind.
Leisha Barnette & Vaishali Jadhav
Leisha Barnette is the Director of Learning and Development at Juiceland, and Vaishali Jadhav is the Senior Learning and Development Facilitator at Procore Technologies. Together, they spoke about the difference between co-presenting and co-facilitating.
Facilitation, they said, is a dynamic that requires one to react and change according to the room, which can be challenging with two people. At the same time, co-presenting is previously prepared and methodically executed.
Therefore, it is more natural to have co-facilitators rather than co-presenters to allow flow between two people and deliver a successful outcome. Through personal anecdotes and activities, Leisha and Vaishali demonstrated how to effectively co-facilitate.
Reagan Pugh
Reagan Pugh is a Facilitator at Voltage Control. He lectured on the inner work of a facilitator; the essential job is done before facilitation, and how it affects the dynamic of the group one is leading.
He called into question what facilitators do before walking into the room, and reminded the group that facilitation is not about the facilitator, but about helping the group.
"We don't go into a room armed with our answers, we go in the room and help them recover the answers in the room, not discover the answers for them."
Reagan shined a light on the importance of centering oneself and bringing positive energy to the room to cultivate the same in the group. "We need to consider where our mind is at, our spirit, and our intentions, so that we don't bring negative bias into the room."
Lee Duncan & Dan Benedict
Lee Duncan is the Enterprise Design Sprint Leader at IBM, and Dan Benedict is the Digital Product Designer at IBM. In their presentation, "Cyber-Physical Design Sprints within the Enterprise," they detailed the six steps of the cyber-physical system (anything that can sense, infer, and act, such as self-driving cars and changing thermostats) and how to navigate the innovation process:
Configure
Compile
Compress
Model
Build
Test
Erin Lamberty
Erin Lamberty is the Director of Strategy & Culture Change at The Design Gym. She presented on how to navigate uncomfortable conversations and facilitate the unexpected.
"No matter how much you prep and plan, it doesn't matter. When you're in the room, you never really know what to expect."
Erin explained that uncomfortable conversations put people out of their comfort zones in four different ways:
A conversation that requires the people to participate with vulnerability, honesty, and bravery.
A very personal topic that might not have been addressed before.
A topic that's had a lot of surface-level chatter but not a lot of in-depth talk.
A topic that's taboo, polarizing, or provocative.
She shared various tactics she said facilitators need to deal with sudden elephants in the room created by uncomfortable conversations.
Taylor Cone
Taylor Cone is the Founder & CEO at Lightshed. He spoke about how to maximize the creative output of teams in his presentation: "Designing Inclusive Collaborations to Leverage Team Diversity." Taylor elaborated on how psychologically safe teams — those that feel that their contributions matter that they're connected to a clear purpose have unique talents to offer, and that feel included — are significantly more likely to work effectively together than those motivated by all other incentives combined.
"If we don't intentionally include, we will unintentionally exclude."
Taylor then explained how to design inclusive collaboration using three strategies:
Include: think about who you might be unintentionally excluding, and how to include them.
Understand: get a sense of who is at the table and what everyone has to offer.
Design: now that you have the right people, design how you want to think together.
Hailey Temple
Hailey Temple is the Services Lead at MURAL, a digital workspace for creative collaboration. Hailey's presentation focused on designing online meetings for "distributed people with a purpose." Through an interactive activity, she explained that the reason online meetings feel weird is that there is a disconnect among participants.
To combat this, Hailey offered several ways to bring participants together in online meetings, including defining why the meeting is online, keeping the meeting short and straightforward, incorporating icebreakers, and using MURAL's concept posters to help individuals organize ideas during the session.
"Visuals tell stories, visuals clarify concepts, visuals have a place in online meetings…We as facilitators are creating stories. We have the choice to make it a textbook or an awesome and colorful picture book."