Effective facilitation isn't limited to the inner workings of staff meetings. True facilitation goes beyond simply setting an agenda: it's a mindset, framework, and way of being.
Excellent facilitators know how to get the best out of their teams and design conversations that are innovative, exciting, and productive.
In this article, we explore how the fundamentals of facilitation affect an organization in the following topics:
Leading with Great Expectations
Effective Facilitation for Everyone
Facilitation with a Purpose
Leading with Great Expectations
At its core, great facilitation is an engaging conversation. In practicing effective facilitation, leaders make sure all communication is as clear and thoughtful as possible. Facilitators can begin this conversation by intentionally setting their expectations with all stakeholders in every conversation, meeting, and project.
Often, meetings end with attendees unaware of their colleagues' and leaders' expectations. By focusing on effective facilitation, leaders can identify and communicate their expectations as well as the expectations of everyone else in the room. 
Consider the following facilitation fundamentals when identifying others' expectations and needs ahead of a meeting:
Preparation is essential for any form of facilitation. Whether you're leading a meeting or heading up a project, participants expect you to come prepared. Demonstrate proper facilitation techniques by preparing to be physically, emotionally, and mentally ready for your presentation.
Practice is the next step in proper facilitation. In practicing, you'll be able to review your process and identify any areas needed for adjustment. Moreover, practicing will help you visualize your upcoming session, anticipate problems, and prepare alternative plans should something go wrong.
Effortless facilitation follows a seamless process designed specifically for your audience. Facilitators have a variety of processes to choose from, including strategic planning, problem-solving, decision-making, and more.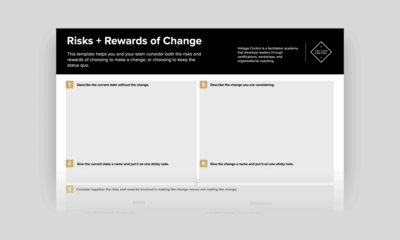 FREE DOWNLOAD
Get Our Risks/Rewards of Change
This template helps your team consider both the risk and the rewards of choosing to make a change or choosing to keep the status quo.
Your physical or virtual environment plays an important role in your facilitation ventures. It's essential to be as intentional as possible in selecting the space for your next session. Consider the requirements for a space, such as the size of the room, what equipment is needed, and any other elements that may affect the flow of your meeting. 
The purpose may be the single most important component of effective facilitation. Your purpose will outline the end goal of a meeting and will communicate why the session is taking place.
Perspective is as essential to effective facilitation as the purpose. Your perspective allows you to contextualize the goals, mission, vision, and purpose of your meeting.
As effective facilitation hinges on meeting with a purpose, understanding what that purpose will produce is just as important. Consider what deliverables should be created by the end of a project, meeting, or conversation. Additionally, be sure to define the most important goals and actionable steps required to achieve them. 
Facilitate with intention by identifying who should be in attendance. Learn more about each participant by researching the bias, potential barriers, and preconceived ideas that they may bring to each meeting. Likewise, be sure to highlight their strengths to further assess how they can be an asset in your conversation. 
Effective Facilitation for Everyone
Integrating effective facilitation skills and techniques goes far beyond the walls of a meeting. A facilitative approach to leadership zeroes in on the positives of leading an active and engaged group. Facilitation techniques such as active listening and encouragement work to stimulate participative group conversation and collaboration.
Every member of an organization can benefit from the power of facilitative leadership. Leaders that demonstrate and embody proper facilitation skills can impart these practices to their employees.
Facilitation techniques benefit employees in the following ways:
1. Fostering Collaboration and Learning
Facilitation skills are essential in encouraging an environment of collaboration and learning. Encouraging team members to look at a situation from a different perspective, consider new solutions, and understand how to bring the best out of each other will result in the most productive experiences.
In creating a culture of learning, leaders should take the time to learn from their teams as well. Giving your employees a platform to offer their own insights is the best way to invite them into this collaborative process of co-creating learning.
2. Getting More From Meeting Attendees
As employees adopt the elements of effective facilitation, they'll bring more of their skills, focus, and energy to each meeting. Equipped with the skills to act as influencers amongst their peers, each employee will become an active participant in the meeting, encouraging each other to make the most out of their time together. 
3. Improving Productivity
As team members work together on various projects, effective facilitation skills allow them to move forward in the most productive, cost-effective, and timely manner. When employees incorporate their finely-honed facilitation skills, they work together efficiently, converse productively, and solve problems effectively. Ultimately, facilitation fundamentals allow everyone from team members to management to make the most of their time at work.
4. Boosting Group Dynamics
Incorporating effective facilitation skills helps improve group dynamics as well. All team members benefit from improved communication strategies, both in and out of the structured setting of meetings. These strategies allow all participants to better express their thoughts, opinions, and concerns as they work together to achieve a common goal.
FREE DOWNLOAD
Get Our Group Planning
Use this template when you want to generate ideas, brainstorm solutions, and plan as a team.
Teams that invest in developing their communication skills are likely to retain the best employees. Statistics show that organizations that practice strong communication skills experience 50% less attrition overall.
5. Encouraging Active Participation
While effective facilitation is often considered from a leadership perspective, it is also an excellent catalyst in driving employee participation. Oftentimes, team members don't feel comfortable enough to share their true opinions in a meeting. Moreover, they tend to bring the bare minimum to the workplace if they don't feel as though their participation, efforts, and insights are valued. 
Organizations that champion effective facilitation as part of their company culture are actively shaping an environment that makes employees feel as though they are truly part of their team. Feeling this sense of psychological safety allows all stakeholders to feel comfortable enough to put their all into their work.
6. Encouraging Team Competency
Leaders that excel in facilitation techniques are able to engender a sense of self-efficacy in their team. Oftentimes, leaders fail to go beyond methods of coaching to help their team members understand and internalize pertinent information. Effective facilitation helps to bridge the gap of competency in an organization.
Leaders must encourage team members on the path toward true competency. This approach to facilitation is essential to incorporate a culture where facilitation skills are easily transferable.
Lauren Green, Executive Director of Dancing with Markers, shares that the path to competency starts with meeting employees where they are:
"First, you're unconsciously incompetent. You're unconscious. And then you become aware [of] your incompetence, and then you're consciously competent. And then you start to grow your skills. So then you're consciously competent. And then when you don't have to think about it anymore, then you're unconsciously competent."
Facilitation with a Purpose
Just as the purpose is a powerful tool in leading a meeting, it's also essential in building effective facilitation skills in others. Intentionally investing in facilitation training allows organizations the opportunity to teach, practice, and embody the structured techniques of effective facilitation.
The nature of effective facilitation is that nothing can take place without purpose. From managing meetings to running projects, leading with the fundamentals of facilitation helps every facet of an organization run smoothly.
Lead with purpose by focusing on the following effective facilitation practices:
Listening first and speaking second
Leading with effective communication
Managing time and tracking deadlines
Asking intentional questions
Inviting others to engage
Creating a focused and psychologically safe environment
Providing unbiased objectivity
Acting as a decider in group discussions
Effective facilitation benefits everyone, whether you're leading a meeting or encouraging employees to take their leadership skills to the next level. At Voltage Control, we help leaders and teams harness the power of facilitation. Contact us to learn how to apply these fundamentals to your organization. 
Looking to connect with Voltage Control
Let's get the conversation rolling and find out how we can help!