Managing remote teams goes beyond using the right tools and tech for communication: intangibles like grace and empathy are an essential part of successfully leading teams.
Remote work undoubtedly changes team dynamics and communication. Making the most of distance work requires us to humanize remote work and challenge the culture of isolation that remote companies typically face.
In this article, we'll discuss:
Remote Work Culture
Conflict in Remote Teams
Exercising Empathy Online
Building Psychologically Safe Remote Teams
Transforming Your Remote Team Management
Remote Work Culture
The nature of remote work undoubtedly changes company culture. As team members prepare to work remotely, they lose out on the real human connections gained from working in person. As a result, it can be challenging for coworkers and management to truly connect with each other.
By intentionally creating a remote work culture of connectedness, remote companies can navigate the hurdle of separation and bring team members together regardless of where they may be working.
Strong remote work culture counteracts the effects of isolation and unites team members around their shared purpose or common goal.
When managing remote teams, it's important to:
Encourage feelings of camaraderie 
Ensure regular effective communication
Shift your work culture to a balance of synchronous and asynchronous work
Conflict in Remote Teams
Making the transition to successful remote work culture isn't easy, especially with regard to conflict resolution. This lack of face-to-face interaction makes miscommunication easier than ever before. While all team members may be focused on achieving a common goal, in the digital world it's easier for words, and actions to get lost in translation, causing conflict between team members.
According to a study on remote work conflict, 81% of workers reportedly experience conflict and 39% of workers think about leaving their jobs as a result of a virtual conflict. Moreover, workplace conflicts are increasing in remote teams as employees are no longer able to verbally and visually communicate as they would in a physical workplace.
Exercising Empathy Online
With more workplace conflicts happening online, it's up to companies to head off these communication challenges as proactively as possible. Experts suggest that empathy may be the cure-all to virtual drama in the remote working world.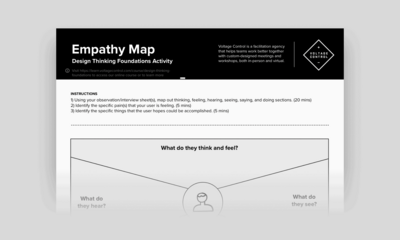 FREE DOWNLOAD
Get Our Empathy Map
Using observations and interviews map out thinking, feeling, hearing, seeing, saying, and doing sections to identify pain points your user is experiencing and what specific things the user hopes can be accomplished.
When managing remote teams, maintaining team members' well-being, morale, and engagement from afar requires intentionally exercising empathy.
Practice exercising empathy with your remote teams by:
1. Connecting with Your Team
Managing remote teams with empathy starts with establishing and maintaining a meaningful connection with your team. 
Improve team connections with the following:
Ice breakers that add team-building and play to a meeting
Regular check-ins with team members
Video chats so team members can see facial expressions
Consistantant communication via platforms like Slack, Trello, or Asana
2. Actively Listening
Listening is an essential part of empathy, especially in remote teams. Listening allows remote teams to contextualize conversations and can help team members avoid unnecessary conflict.
Actively listen by asking intentional questions during check-ins to identify challenges team members might be facing. Experts recommend using prompts to help check-in.
3. Creating Opportunities to Ask for Help
It's not always easy for employees to speak up and ask for help. Team leaders can demonstrate empathy by showing other members of the team that it's okay to ask for assistance. By being vulnerable with your teams and asking for help yourself, you'll open the door for others to feel as though it's okay to ask for help as well.
4. Equipping Team Members
Ensuring that team members have everything they need to complete their work is another way to embody empathy. Be sure to ask thoughtful questions and offer materials and tools proactively to ensure your team is properly equipped to do their jobs.
Be sure to ask questions such as:
What traditional resources does my team not have access to when working remotely?
Do any team members have accessibility needs?
What tools do all team members need?
5. Encouraging Transparency
Transparency is key when managing remote teams. Without in-person conversation, information isn't always as readily understood in the virtual realm, so it's essential to regularly share important and accurate information.
Set explicit expectations for team members like KPIs, milestones, and timeframes
Share objectives clearly with the team
Provide feedback and guidance regularly to team members
6. Increasing Recognition
Recognition is essential in helping employees feel valued and validated. Employee recognition for remote teams can take on many forms from a shoutout via email or a monthly gift certificate. A small gesture of gratitude goes a long way online as it reminds your team members that you see the work they do and you value them as a critical part of the team.
Building Psychologically Safe Teams
Another element of successfully managing remote teams is creating a sense of psychological safety. When team members feel psychologically safe, they're most confident to share their ideas, ask for help, and perform their best work. Creating this environment in the virtual realm allows employees to work without the fear of being punished, judged, or ignored.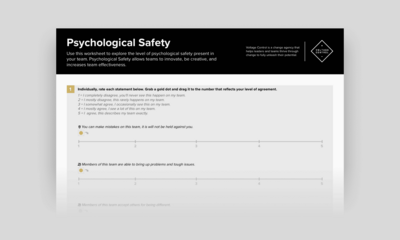 FREE DOWNLOAD
Get Our Psychological Safety Check
Use this worksheet to explore the level of Psychological Safety present in your team. Psychological Safety allows teams to innovate, be creative, and increase team effectiveness.
Empathy and psychological safety go hand-in-hand. Team members are all responsible for creating this environment for each other.
Promote an environment of psychological safety by:
Encouraging participation
Practicing conversational turn-taking
Encourage leaders to take on challenges
Use breakout rooms on Mural or Miro
Address problems immediately
Increase mistake tolerance
Transforming Your Remote Team Management
With empathy in mind, it's time to transform your remote team management.
Manage remote teams with these best practices:
1. Offer Multiple Contact Options
When managing a remote team, it's essential to provide multiple forms of contact. Share your contact information for video chat, email, instant messaging, telephone calls, and other platforms. By diversifying your methods of communication, you'll give your team every opportunity to stay in contact with you.
2. Increase Flexibility
Flexibility is a valuable element when managing remote teams. From offering flexible hours to allowing team members to set their own deadlines, allowing more flexibility will help build trust and boost morale with your remote teams.
3. Use Remote Work Advantageously
Focus on the advantages of remote work and hire a diverse and dynamic team. Remote work gives companies access to the global workforce, allowing them to hire the best in the business from any country in the world. 
4. Find a Balance for Asynchronous and Synchronous work
When managing remote teams, there is untapped potential in understanding, and utilizing synchronous and asynchronous work times. With remote workers, we have discovered the benefits of deep focus, asynchronous work. This allows for flexibility across timezones, teams accomplish more in a shorter amount of time, and it allows for synchronous time to be more focused and productive. Managing remote teams takes a leadership team that understands the importance of synchronous and asynchronous work.
5. Accept Adjustment Periods
In learning how to best manage remote teams, don't forget to be patient. Transitioning to a remote-only or hybrid workplace will take time. From troubleshooting technological issues during meetings to learning new habits to improve your virtual workplace, allowing team members to learn as they go is an important part of managing your remote team.
Working remotely comes with its own set of risks and rewards. Want to learn more about how to navigate the ins and outs of managing remote teams? Connect with us to discover how to implement empathy and grace as you lead your remote team to success.
Looking to connect with Voltage Control
Let's get the conversation rolling and find out how we can help!