I was recently in France for a performance and a Design Sprint workshop. While there I had the pleasure to connect with some of the local entrepreneurs of Angers and Paris. To say that I was impressed by the economic support for startups and entrepreneurs in France would be an understatement. I was completely blown away.
ALDEV
In Angers there is Angers Loire Développement(ALDEV) supports business leaders by providing them with management advice, financial leverage, presentation of professional networks. From the definition of the project to its realization, ALDEV accompanies the professionals in each stage of their development. A mentor is dedicated to each company and is an expert in the designated business sector.
While in Angers I was able to grab breakfast with the ALDEV team and heard all about the various programs they were running. Operation Fox supports early stage ventures through a 5week program that is sponsored by the government without any equity stake. Le Village is a program that supports later stage companies and helps them with resources and connections to grow and scale effectively.
"When we started to work on "Angers French Tech", there were not a lot of people knowing IoT and resources of the territory in electronics and innovation. Now, Angers starts to be a national reference in these domains. Angers, "the sweet" (we say "la douceur angevine") is now known as the right place to create and boost your startup" — Yoann, ALDEV
Angers French Tech
After meeting with ALDEV, I had coffee with Yannick Bourdin, General Manager of the Angers French Tech Cooperative. Yannick and I spent the better half of 2 hours chatting about entrepreneurship and all the ins and outs of La French Tech, a national campaign to support and grow tech innovation both internally and globally.
On a territorial level, each regional ecosystem can apply to the FrenchTech label. The selection process is basically driven by a satellite organization of the ministry of economy (Mission French Tech). Angers was awarded the "Focused ecosystem" label for their accomplishments in the IoT space.
"Our project is ambitious, but the true innovation and brilliant promise is to build it under a co-op format. Collectively we can make the project environment a little more fluid by offering solutions to the various challenges an IoT project team can meet." — Yannick Bourdin
In partnership with the Angers French Tech delegate Michel Perrinet, Yannick is launching Angers French Tech Coop and will soon be opening a campus in the old National Postal Service company called La Poste. The majestic building is located in the city center and was built in the 1930s. They will occupy 30,000 square feet and will consist of a business hub where all stakeholders within the ecosystem can come together in a working environment that encourages the collective energy to flow. Including spaces for companies, or innovation teams, co-working, events, meeting and training rooms, showroom, community bar
Cite De L'objet Connecte Angers
After my workshop at La Village We Forge, I had a nice chat with Laurent Aguenier, Technology Directory of Cite De L'objet Connecte Angers. Laurent. The Connected Object City supports start-ups, SMEs, ETIs and large groups at all stages of their IoT projects, from idea to industrialization. They play a pivotal role in Angers IoT industry as they help startups through that awkward stage from prototype to early manufacturing, which can be expensive and fraught with costly mistakes.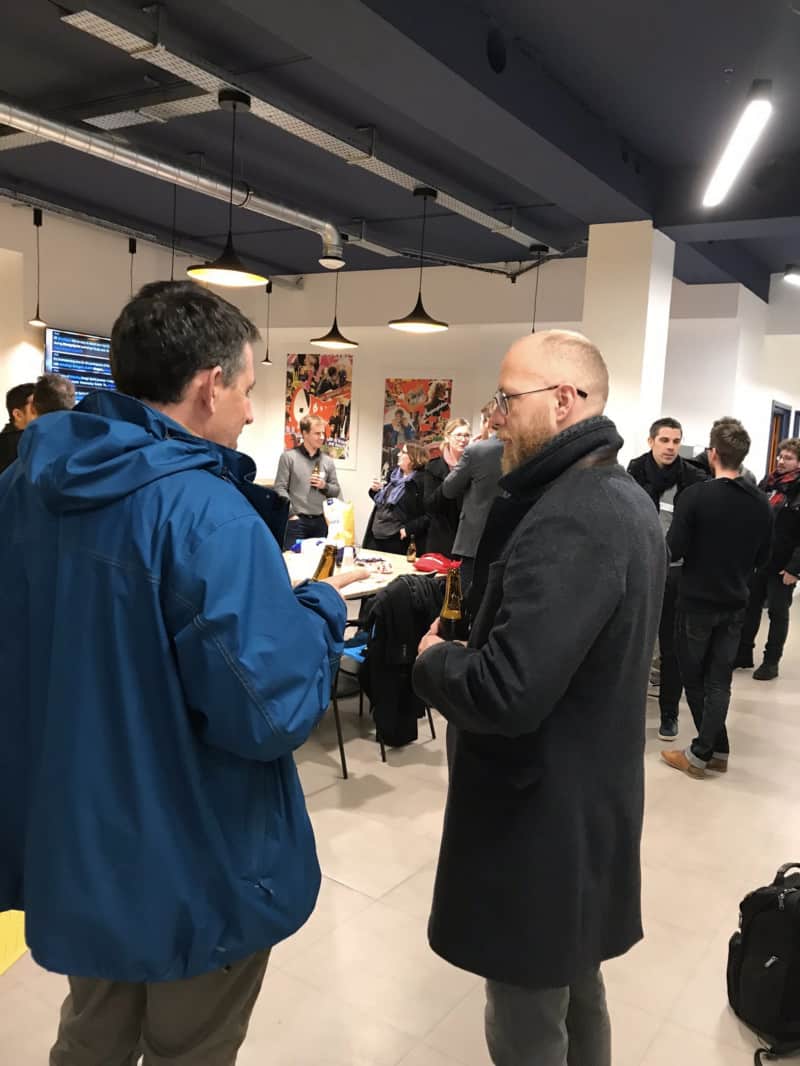 Le Laptop
From Angers I headed to Paris to meet up with Pauline Thomas. While working for Adobe, Pauline founded Le Laptop, one of the very first co-working space in Paris. Le Laptop's mantra is Space, People, Methods. This is 2 different inspiring spaces gathering the biggest UX community in Paris and a Design Sprint academy for professionals.
She has also been with Numa since the beginning, mentoring startups and facilitating training for corporations. As an artist, Pauline offers the space as a gallery for the artists she promotes during creative events.
"As a freelance User Experience Designer I saw a need for designers to find a social workplace to develop and grow their design practice through learning from others and working collectively on client projects" — Pauline Thomas
ShakeUpFactory
The next day I met up with Aymeric Penven, Startups Program Manager of ShakeUpFactory. ShakeUpFactory is an accelerator and venture Capital firm for disrupting Tech Startups, with a focus on food & beverage. They leverage a community of entrepreneurs, mentors and investors to provide tailored support and advice to international startups and entrepreneurs. They build on a solid network of international partners to provide business development opportunities, initiate and accompany efficient collaboration programs with corporations and also attract funding.
"A few years ago, most FoodTech startups believed they had to move to California if they want to succeed. ShakeUp Factory is part of the raising awareness that Europe — and France — hold every asset in academia, talent, culinary culture, and now funding to shift that status quo." — Aymeric Penven, Startups Program Manager of ShakeUpFactory
Station F
I've seen a fair share of accelerators and incubators in my day, but this place definitely takes the cake. Station F is renovated from Halle Freyssinet, a train station built in 1929 in Paris' 13th arrondissement. It consists of 3,000 desks, 1,000 startups, spanning 365,000 sq ft. There are 3 building each of which could contain a foot ball field. The first building is for receiving the public and houses a giant auditorium, VCs, and other public meetings spaces. The second building is for quiet work, including 3,000 desks, 1,000 for individual co-working and small companies and 2,000 for private partners like Facebook, AWS, Google, etc. The 3rd building is a giant restaurant complex that is still under construction. Station F is only 6 months old and is already at 80% occupancy.
The founder of Station F, Xavier Niel, is a famous French entrepreneur. Xavier Niel is the Iliad Group's majority shareholder and founder. He has been involved in the data communications, Internet and telecommunications industry since the late 1980s. In 1993, before dedicating himself full-time to developing the Group, he founded Worldnet, the first Internet service provider in France, which was sold to Kaptech (LDCom Group) in December 2000.
La French Tech
La French Tech is a global movement celebrating french innovation, entrepreneurship and startups.
French Tech Ticket
The French Tech Ticket program is designed for entrepreneurs from all over the world who want to establish their startups in France. Winners receive a fast track resident permit, landing pack/welcome guide, incubator & acceleration program, and prize money.
French Tech Visa
The French Tech Visa is a simplified, fast-track procedure to obtain a residence permit known as the "Passeport Talent" for three types of international tech talents — Founders, Employers, Investors
French Tech Hubs
The French Tech Hubs program consists of a worldwide network of tech entrepreneurs, investors and executives. These French Tech communities are designed to build bridges between major innovation hubs and facilitate the international growth of French startups
French Tech Austin
French Tech Austin is an official candidate to receive the "French Tech Hub" label from French Tech in Paris. As such, it is authorized to use the "French Tech" label and continue supporting French entrepreneurs and startups in Austin — even without the official label. French Tech Austin also promotes in Austin France's booming tech sector.
Austin is working diligently with lots of local support, led by Christophe Daguet, to become an Austin French Tech Hub. Individuals like Christophe of Dell, Liz Wiley of the French American Business Council of Austin, and Fred Schmidt of Capital Factory are helping increase the odds of our acceptance. Austin is currently in candidate status and we hope to transition to official hub status in the next batch of announced hubs.
"I'm involved in French Tech because I've noticed a positive change in France and I want to be part of it. I share my experience with startups but I also learn from them and bring back energy and inspiration to my own work." — Christophe Daguet, Director of Product Strategy and Innovation @ Dell
As this official candidate, Christophe is allowed, officially by French Tech, to use the branding, the logo, host events as "French Tech Austin," and continue supporting French entrepreneurs and promoting France tech scene as "French Tech Austin. There are monthly meetups where French Tech enthusiast meet to grow the community and explore ways to expand the reach of the initiative . French Tech Austin provides a mentorship program for the startups and hosts a series called "French Tech Tuesday" comprising social and educational events.
"It's a great partnership to have Angers supporting us and our candidacy to also have the "French Tech Hub" here in Austin to recognize our growing community of French entrepreneurs. Anyone who loves French tech, or is affiliated with it in some way, is welcome to join. And we are always looking for volunteers!" — Liz Wiley, a business and IP attorney in Austin, Chair of the French American Business Council of Austin, Inc. and Honorary consul of France for Austin
The Angers region has a considerable history steeped in electronics from the last economic boom. Not unlike Southern Michigan or Finland, the area fell on some hard times when a lot of the electronics work moved to China. But now, with the explosion of IoT — where hardware components are just as critical as software — Angers is seeing a resurgence in the new economy because of its deep bench of talent and experience in everything from design to rapid prototyping to manufacturing.
"Even China is flocking there now to form partnerships for IoT innovation, design and smaller run manufacturing. There are many things Austin can learn from the people in Angers and vice versa. Plus these are both really enjoyable cities to visit and spend time in!" — Fred Schmidt, Director International Partnership @ Capital Factory
Gérard Araud, the french Ambassador to the US, recently visited Austin to sign the France-UT endowment. The endowment will honor the life and work of the late mathematician, physicist and UT Austin professor Cécile DeWitt-Morette, who was born and educated in France. The initial investment of $100,000 has formally established the endowment but we seek to grow this endowment to at least $2 million by 2020.
It is an exciting time for France and Austin and I'm wildly impressed by all of traction that has been made so far. It is evident that there is been a tremendous amount of hard work and I am excited to play any small part that is required of me. With the momentum that has been built, I am sure there are great things to come.
---
Voltage Control facilitates innovation workshops and we specialize in Design Sprints. Contact Douglas at douglas@voltagecontrol.co if you are interested in having us facilitate your Sprint, coach your team on how to run an effective Sprint, or are curious to learn more about how to adapt Design Sprints or other workshop techniques to help your company grow.
---
If you are in or near Austin, come visit us at the Austin Design Sprint meetup. Each month we have a guest speaker share their experience participating in a Design Sprint. If you would like to be a future speaker please email me.