---
This is part of my series on thought leaders in the innovation space. Check out the other articles here
One of Heather Turney's guiding principles as an innovation leader is: "Never be comfortable enough."
"You either love me or you want to fire me. My job is to always speak truth about what we're trying to do and the difficulty of it. And you either love that or you think that I'm annoying and want to get rid of me."
To Heather, having the grit to take this perspective is essential in innovation. "You have to be comfortable in that space to do great work. Otherwise you'll become just like the business and cater to the whims of the executives…"
"My job is to always speak truth about what we're trying to do and the difficulty of it."
Heather recently left Porsche after running their innovation program for three years. She has a long track record of working with world-class brands including The Coca-Cola Company, The Disney Company, Yahoo!, NBCUniversal, Compassion International, and the U.S. Soccer Foundation.
Now she works for an equally-esteemed company— Nationwide—where she is a core member of the team's innovation pods, driving forward project progress, conducting design thinking research with users and ensuring innovation work aligns with the corporates current and future strategic goals.
She also has a very cool side project called Start Small, a company she started to bring design thinking practices to everyday people so they can use the techniques to build better daily habits, intentions, and goals.
Lean Into What's There
When you are building a new innovation program, Heather spoke about the importance of honoring the great things that are already happening within an organization. "Too often, we hear people in innovation talking about their company needing a total transformation, disruption, and change — the need to scrap everything and start again from scratch."
She doesn't think that's the right approach. Ignoring the work that's already been happening will likely backfire. Any innovation team will need to partner with the folks that have been hard at work on the challenge before the innovation team got involved. Instead, Heather aims to lean into the internal initiatives and actions that are moving in the right direction. She looks for the innovative ways of working that are already there. "What are the things internally that you can lean on to help ramp up? If you take a moment to dig in, you can find that original, creative entrepreneurial spirit of the organization."
"The biggest downfall is when you're looking for innovation and transformation and you lean away from the organization. Instead, look around and find the stories, cultures, and experiences that you can lean into."
"In order to change the narrative, you have to get people on your side to do the work of building."
It's all about partnership and taking a collaborative, rather than antagonistic, or throw-everything-out attitude. "In order to change the narrative, you have to get people on your side to do the work of building. It takes a village to build an idea. And if you ignore the village or organization and only focus on the idea, it will never go anywhere. It will not be able to grow if you don't think first and foremost about the environment you need it to grow in."
Starting Small
Heather describes her way of approaching problems as a blend of design thinking methodologies and Kotter's 8-Step Process for Leading Change. She believes in starting small and ensuring that people have the right tools to act in new and innovative ways.
For example, when she was at Porsche, she wanted to give the team the tools that supported being "curious and creative." They took a simple, fairly inexpensive approach; they gave everyone sticky notes and pens and tried a few small experiments rather than kicking off one overly-ambitious innovation initiative.
Heather tests smaller ideas as a way to learn and to define what the path forward should be. "Hopefully [the experiments] give us a more solid framework of what we think does work, what we think the real intentions are, and how we are going to turn them into action for the ultimate goal."
This loops back to the concept of leaning into what's already at play versus reinvention. She's seen it go poorly when an innovation team comes in and tries to redefine a culture or a mission right off the bat. "It's not about what you write down on paper and what the sticky note says. It's more about what's true amongst the people. Once you can live it, then you can define it. It's hard to define in the abstract and assume that that's how you're going to live."
Priorities & Storytelling
One important aspect of Heather's role is working with leadership to understand their priorities and to "co-create what a balanced portfolio looks like." By balanced, she means that you need both the short- and long-term view. Companies will always need to plan for short-term initiatives— the projects that are likely more expected and bring immediate value. But she also makes sure that the organization has its hand in fuzzier things that are longer term. These are harder, but they are also the potentially-bigger wins.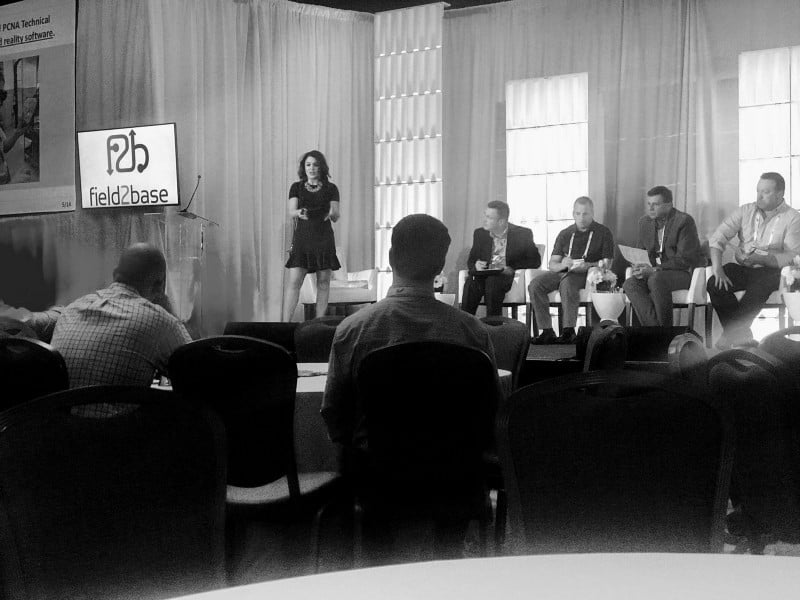 Beyond strategic thinking, being a great storyteller is another quality that Heather identifies as fundamental to her work and success. She connects this back to a human-centered design philosophy and a drive to always think about the consumer first. "I want to communicate what is happening and who it is happening to. I like to make the data compelling instead of just numbers and spreadsheets."
She shared an anecdote from early in her career that illustrates the importance of storytelling. Heather had applied for and received a social innovation grant for her organization from President Obama's office. "We had won this huge award and got federal recognition. We were literally signing the paperwork and then the board team says, 'Can you remind me again why we're doing this?' I remember thinking—weren't you the ones that said we should do this? That was an early lesson of how you should keep your stakeholders well-briefed so they understand the stories and the rationale behind things."
It's a lesson she pulls into her work today. "I'm always finding stories I think are compelling. It's important, especially for the executives who are on your side and who are helping make that argument with the rest of the executive team. You need everyone to have the same powerful stories and the ability to share because culture is the story that you talk about."
Meet the World Where it Is
In terms of companies that inspire Heather, she cited Netflix. In particular, she is drawn to the fact that when Reed Hastings started the company, he (supposedly, according to industry lore) had the vision for the Netflix we know today. However, as Heather says: "The technology wasn't there and the consumers weren't there. Nothing in the marketplace actually supported what he thought his dream idea could be."
Yet, that didn't stop him from starting down the path to the vision. But he had to meet the customers where they were at the time. (Which was still in love with Blockbuster!) "He took that initial idea and scaled it all the way down to: 'What's the most minimal idea that I can get to the marketplace to start growing a customer base. Then I can learn and scale it up.' Eventually, he was able to make it into his idea."
Heather finds two lessons in this story. First, if you have a great idea and it doesn't work, don't throw it away. "Think about what the market is ready for and what you can allow," she said. Second, it teaches about testing and learning, rather than just building and launching.
Technology for Human Needs
Heather is optimistic that the next wave of innovation is not "technology for technology sake." She anticipates the future is more about: "the blending of technology and human life to solve real, everyday needs." She talked about Bird scooters as an example of rapid changes that are based in human need. In this case, Bird answered the need of helping people with "last mile" transportation.
"Day 1 everyone is confused. Day 5 people love or hate them, Day 30 walkers are automatically stepping aside for them and the city sidewalk construct has 'changed' to accommodate them."
"It seems really simple, it's a scooter. But, Bird nailed democratizing access to the scooters and how you actually get from Point A to Point B. Instead of too much technology, they thought about how they distribute to actually help people in their day-to-day lives."
---
If you want to read my other articles about innovation experts and practitioners, please check them all out here.