After checking into our AirBnB located in the 2nd arrondissement, and resting for a bit, Tamara and I decided to adventure out and find some food. With the assistance of Yelp, we found a lovely place a short 10-minute walk towards Le Centre Pompidou. This was typical of our Paris experience. As we set out for specific destinations, we found our way past many awesome famous or otherwise impressive places. It is an amazing city and we will definitely be back.
Le Comptoir de La Gastronomie was quaint little restaurant that serves excellent French cuisine in a open and airy art nouveau dining room. To the left as we entered was an shop with cheeses, breads, amazing wines, meats, and speciality items.
The next day I got up early and walked the 30 minutes across town to meet Pauline Thomas, founder of Le Laptop. I was impressed by the work they are doing and I will visit them again when I return to Paris. It was raining when I left Le Laptop to head to Pere Lachaise Cemetery. Tamara's phone wasn't working so it took a bit of old school triangulating before we found each other at the cemetery. After exploring the cemetery in the rain and locating Jim Morrison's grave, we were famished.
Leaving the cemetery, we made our way through the garment district to Chez Janou. Chez Janou is a french brasserie/bistro located on a quiet corner behind the Place des Vosges. We entered from the cold rainy street through a thick curtain, to reveal a warm and cheerful atmosphere. The crowded circular bar was immediately in front of us where a pleasant bar tender served us some superb wine. Chez Janou specializes in Provençal with southern classics and an extensive pastis menu.
After lunch we headed to Maison Rouge, an art foundation in Paris dedicated to exhibiting private collections and marginal/outsider art. They recently announced that they will close its doors in 2018, so we were lucky to visit when we did. We followed the Seine for a scenic walk home and serendipitously discovered the Fontaine du Palmier, which Tamara had wanted to see.
That evening we had dinner at, La Cantine des Mamas, a quirky restaurant a few blocks from our AirBnB. The "3 mothers" all bring unique backgrounds from Dakar, Bombay, and Algiers, creating a truly eclectic menu and flavor profile. The custom decor featured jungle wallpaper, cushions on the floor, and a secret boudoir. Near the end of the meal, I happened to notice an Iggy Pop poster on the wall which seemed out of place in such an eastern inspired decor. When asked about the poster, the owner became vividly ecstatic and proclaimed "I love Iggy Pop! He is a great human being".
Friday morning I woke early to head to Station F, the worlds largest startup campus. I had a meeting with Aymeric Penven of Shake Up Factory, an accelerator and venture capital firm for disrupting Tech Startups, with a focus on food & beverage. This time I opted to take an Uber as Tamara was coming with me and was less excited about a 45-minute walk at 7am. While I was in Station F, Tamara sought out graffiti known to be in the Station F neighborhood. She found the graffiti, but the cafe next to Station F, Anti-Cafe stole the show on a wet and chilly day.
Our plan was to visit the catacombs after my meetings at Station F. Unbeknownst to us, Vincent-Auriol, an amazing outdoor market, follows most of the path from Station F to the catacombs. As we strolled towards the catacombs. We enjoyed the sites and smells of amazing fresh produce, meats, confections, and everything under the sun, at a market like no other.
After the catacombs, we made the obligatory Crepe run to La Creperie de Josselin. As a diabetic I rarely eat carbs, but this was an occasion worthy of an exception. We had both savory and sweet crepes and they were delicious. The place was elbow-to-elbow and our waiter (who turned out to be the son of Josselin herself) wore the quintessential stripped french shirt but opted against the beret.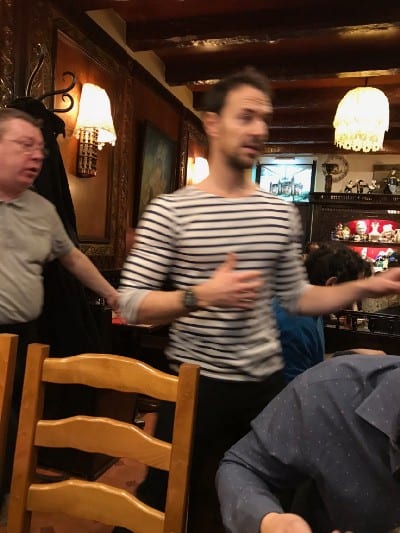 After indulging our bellies with crepes, we decided to treat ourselves to Thai massages at Ban Thai Spa Marais. Ban Thai is a contemporary Asian SPA , that over the years has become the benchmark for Thai massage in Paris. When we checked in, they asked if I wanted traditional and warned me that it was extremely firm and intense, which was music to my ears. That was the best Thai massage I've ever had.
That evening we went to Restaurant Le Coupe-Chou, the most romantic restaurant in the world. We found it covered in ivy and nestled discretely on a cobblestone side street in the Latin Quarter. Opened in 1962, the restaurant is a converted old home consisting of a winding path dotted with dimly lit dinning rooms featuring giant hearths, stone walls, brick floors, and exposed wooden beams. At the table next to us sat a lovely British couple who had been coming there for over 20 years. Tamara and I fell in love with this place and when I returned to Austin to rave to my friend JC about it, he told me that he and his wife got engaged there!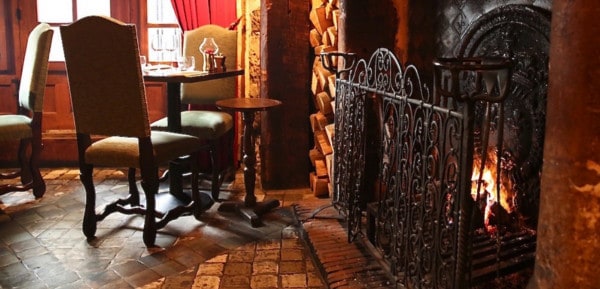 Saturday we decided to wander and explore southwest Paris. We walked by Serge Gainsbourg's house, hopped from cafe-to-cafe, and eventually made our way to the Eiffel Tower. We enjoyed some nice views on the back side of the tower and when we made our way around the other side, the crowds were unbearable, so we moved on. We took a look at the Quai Vertical Gardens and said hello two a few more Cafes, one of which had the oldest pay phone I've ever seen.
We ended our last day in Paris over a nice dinner at La Coïncidence. La Coïncidence is a traditional French restaurant in the heart of the 16th arrondissement. The food was nice but with Route 53 signs and Farside comics, the decor was a bit too American.
During dinner, Tamara accused Paris of having no cats. In an effort to prove her wrong, I tried to pull stats on the number of cats in Paris only to fail and instead find an amazing article about celebrity cats in Paris. We ended our last night in Paris on a quest to meet as many of them as possible. Fa-raon was the only one that we successfully met. Kleopatre had gotten relocated due to personality clashes and Kitty was bending the window of a closed shop.