---
Design thinking is imperative for companies to unleash their team's full potential. Let us take a deep dive into 8 great Design Thinking Examples!
In the Harvard Business Review article "Why Design Thinking Works," Jeanne Liedtka reveals the results of a seven-year study she did looking at 50 business projects in a range of sectors. What she found was this: "I have seen that…design thinking…has the potential to do for innovation exactly what TQM [total quality management] did for manufacturing: unleash people's full creative energies, win their commitment, and radically improve processes."
Design thinking is an undeniably powerful tool for companies, but what does it look like in practice?
Design thinking is an undeniably powerful tool for companies, but what does it look like in practice? How have organizations applied it and how does it work? Is design thinking training something your company needs? Read the following design thinking examples and case studies to discover how design thinking has been successfully applied by many companies. Bonus: learn the key foundations in design thinking to better solve problems and seize opportunities in our Design Thinking Foundations e-course–an excellent tool for the entire team.
How has design thinking been applied to different industries, challenges, and business sectors? Here are eight examples of how it has impacted real companies and teams.
---
1. Airbnb
Published in First Round Review, this article — "How Design Thinking Transformed Airbnb from a Failing Startup to a Billion Dollar Business" —outlines how the famed start-up went from $200 a week profit to the "unicorn" it is today.
Design thinking is a part of Airbnb's success; in particular, they built a culture of experimentation: "It was only when they gave themselves permission to experiment with non-scalable changes to the business that they climbed out of what they called the 'trough of sorrow.'"
2. PillPack
This case study describes how PillPack started as a startup-in-residence at IDEO Cambridge. Working with designers and using a human-centered approach, PillPack refined their brand vision, strategy, and identity across channels.
PillPack was called one of the best inventions of 2014 by Time Magazine and Amazon bought PillPack for $1 Billion in 2018. I think you could safely say that their design thinking approach was successful.
3. Clean Team
There are many great examples of how design thinking has been applied to the social sector. This case study describes Clean Team, which applied design thinking to provide in-home toilets for Ghana's urban poor.
The case study describes the project and its success: "For the millions of Ghanaians without in-home toilets, there are few good options when it comes to our bodies' most basic functions. Working with Unilever and Water and Sanitation for the Urban Poor (WSUP), and IDEO.org developed Clean Team, a comprehensive sanitation system that delivers and maintains toilets in the homes of subscribers. Clean Team now serves 5,000 people in Kumasi, Ghana, making lives cleaner, healthier, and more dignified."
4. IBM
IBM is an example of a corporate giant who has deeply invested in design thinking and building a large internal design team. And, they've seen the work pay off—this article talks about how IBM has seen a 301% (!) ROI by banking on design thinking. Another impressive thing about IBM is that they've made their enterprise design thinking assets available to everyone through this open toolkit.
Facilitation Certification
Develop the facilitation skills and confidence needed to transform meetings, inspire innovation, drive collaboration, and lead change.
5. Stanford Hospital
Design thinking has even found its way into the world of medicine and is seen by many as fundamental to the future of wellness. This case study describes how design thinking was used in a two-day course by the Hasso Plattner Institute of Design at Stanford to explore ways to improve the patient experience in the emergency room.
Additionally, the article describes how Stanford administrators have been using design thinking to envision other new experiences for the hospital: "SHC staff used design thinking to complete a plan to redesign two nursing units in the current hospital to serve only patients with cancer."
6. Uber Eats
This article by a former designer on the UberEATS team describes how they approach their food delivery service with a design thinking mindset. One of the top takeaways from the article is how empathy is essential to their practice: "To understand all our different markets and how our products fit into the physical conditions of each city, we constantly immerse ourselves in the places where our customers live, work, and eat. Sitting in our offices in San Francisco or New York, we can't truly understand the experiences of a person on the streets of Bangkok or London."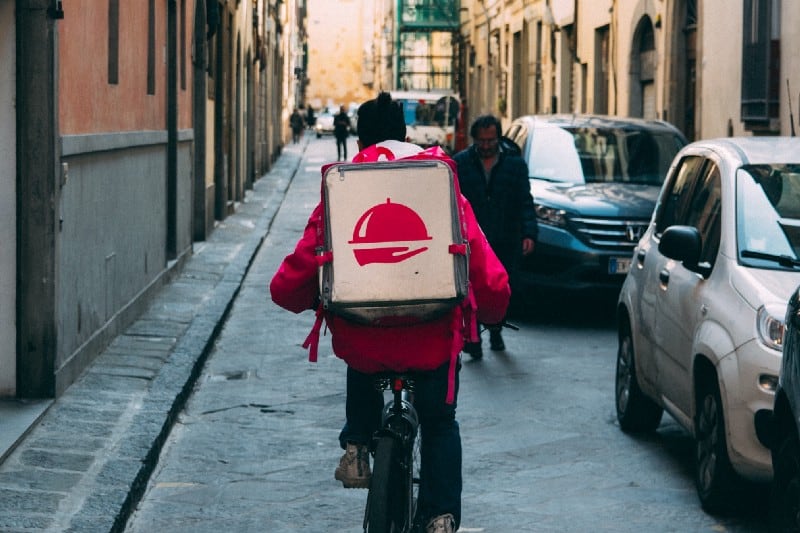 7. Golden Gate Regional Center
The Harvard Business Review article "Better Service, Faster: A Design Thinking Case Study" describes how design thinking was used by the Golden Gate Regional Center (GGRC), an organization that provides services and financial support to people with developmental disabilities in the San Francisco Bay Area.
GGRC worked with design students from Stanford to rethink their lengthy assessment process, which often took months. One outcome of the project was a culture change inside GGRC toward design thinking: "GGRC is now brainstorming improvement ideas and figuring out ways to prototype them on a regular basis."
8. Bank of America
We'll end with one of the classic design thinking examples, which comes from Bank of America. Invision's case study shares how the bank partnered with design consultancy IDEO in 2004 to understand how to get more people to open bank accounts. They ultimately came up with the Keep the Change program. This highly successful banking initiative came out of the design thinking research the IDEO team did where they found savers were intentionally rounding up when writing checks.
To learn more about how to apply the design thinking process to business, go here. If you want to build your own toolkit of design thinking tools, check out our resources.If you're ready to start using design thinking, sign up for our online course.
Join Our Facilitation Lab
Sharpen your facilitation skills to improve the quality of meetings at our free virtual community meet-ups.
---