I was recently in Atlanta, Georgia, with a good friend, Erin Mays, Managing Partner of Ebco. Voltage Control and Ebco often team up to facilitate immersive workshops for companies to explore innovation trends and their impacts on the market.
Ebco is one of Austin's fastest-growing agencies. Ebco is led by consumer research expert Erin Mays and market and trend expert Kalyn Rozanski, experienced professionals, and trusted advisors. They are both passionate about trends and consumer behavior. Their mission is to use what they know to arm you with the information and inspiration you need to make informed strategic action. Erin was recently named a winner in the Innovation and Startup Category at the 21st Annual Austin Under 40 Awards. Ebco was also listed on Austin Inno's 50 on Fire List in 2018. The future is bright for Ebco and we love every opportunity we get to work with their team and clients.
Erin has a degree in anthropology and has worked professionally in innovation as a Design Strategist and Researcher before starting Ebco. There is always plenty for us to talk and wonder about. We often laugh when together but I always learn something new in every interaction. Erin has the wit and tenacity that is common amongst CEO types. I'm not surprised that organizations like Colgate, Georgia Pacific, and other major brands are bringing Ebco in to explore new consumer trends in their respective markets.
In the morning before a workshop, we were talking about the BeltLine. This revitalization effort in Atlanta is one of the largest urban design and planning projects ever undertaken. Once a former railway corridor around the core of Atlanta, this area is being transformed into a multi-use trail throughout the city. Projects such as the BeltLine in Atlanta, the Big Dig in Boston, and the High Line in New York City are examples of a trend in cities and the adaptive reuse of major infrastructure.
The elevator in the lobby "dinged" and the rest of Erin's Ebco team arrived. Our conversation shifted to the client and the workshop we were to run in a few hours.
Workshop Design
In collaboration with Ebco, Voltage Control designed a workshop to make space for Georgia Pacific to learn about new trends that will impact the future of their industry. My task was to help design an interactive experience for the workshop attendees to experience these trends, and related products, firsthand.
The client's primary goal was to expose and familiarize attendees to these trends. We also wanted to drive relevant, meaningful dialog among these participants. Each station showcased a macro-trend and the associated micro-trends. We also included current products that exemplifies the trends.
Each of our team members facilitated one of three trend experiences to guide the participants through those macro trends. The workshop was interactive, conversational, and captured the participants' insights. They were able to touch, feel, and even taste these cutting-edge products. This also helped the team members contribute to the future vision of the company.
Attendees then filled out an insights survey using Mentimeter. This is an interactive workshop tool that allows facilitators to capture input in real time from their audience.
Attendees loved getting to highlight their favorite parts of the workshop that inspired them at each station. We ended by asking, "What ways can Georgia Pacific develop products and services that take advantage of these trends?" Now Georgia Pacific can analyze the research provided by Ebco and combine that with the insights from their teams. This combination of research and workshops defines them as the trendsetters and industry leaders.
"We run best-in-class immersive trend-workshops for our clients — and that includes expert facilitation. Voltage Control has been the perfect partner in delivering immense value to our clients."

Erin Mays, Founder + Managing Director, EBCO
---
Get Our Workshop Design
Use this canvas to design your workshop, meeting, training, or course like a learning experience pro.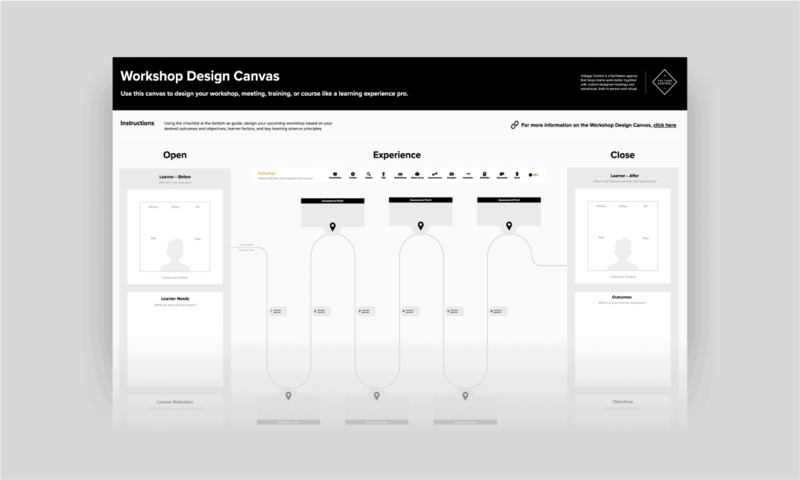 What I have learned
Workshops are intense experiences filled with bold ideas and powerful conversation. The curiosity of the attendees is both inspiring and exhausting. It is important after these action-packed workshop days to spend time resting and reflecting to recharge for the next gathering. My time facilitating this workshop made me think about how Voltage Control's Founder, Douglas Ferguson, often spends time at Generator in Austin doing contrast therapy. This recovery lab brings athlete grade recovery equipment to everyday people.
I've always been a fan of self-care whether it be massage, acupuncture, meditation, or a day off from the gym. Having access to professional athlete tools allowed me to up my recovery game and I'm feeling the best I ever have.

Douglas Ferguson, Founder + President, Voltage Control
CEOs and academics see recovery as an essential key to success. Recovery is what we do on our days off from training to ensure we're at our best the next time we need to execute.
Collaboration
I love when our team at Voltage Control collaborates with other local Austin companies. Agencies like KungFu.AI, RESPEC, and Ebco invite Voltage Control into gatherings to design and facilitate meaningful experiences. Our team elevates client engagements in ways that are participatory and productive. Our purpose is to escalate innovation while fostering deep rapport between these agencies and their clients.
"A Voltage Control workshop enables us to learn more about the project and submit a scope of work faster than we could have believed. Voltage Control facilitating frees us up to focus on the client and their project."

Jim Scott, Design Innovation, RESPEC
From Rapid Discovery Workshops to 5 Day Design Sprints, inviting Voltage Control as a third party facilitator puts both organizations on the same side of a table. These workshops are bespoke and designed to fit client needs. They provide the structure needed to drive alignment for quick decisions and validation.
"Voltage Control workshops free us up to collaborate with our clients to identify their most fertile opportunities and build actionable roadmaps which help us define and de-risk initial engagements."

Steve Meier, VP of Sales & Marketing, KungFu.AI
Voltage Control's participatory methods and agenda design are invaluable to agencies like Ebco, KungFu.Ai, and RESPEC. Our facilitators lean on a breadth of methods and facilitation experience which is indispensable to meet the unique needs of each client.
Looking for an Expert Facilitator?
Voltage Control offers a range of options for innovation training, design sprints, and design thinking facilitation. Please reach out to us at info@voltagecontrol.co if you want to talk.
---