Magical Meetings Pre-Launch Party
Complimentary Book Launch Experience
Douglas and John, authors of the new book Magical Meetings, invite you to celebrate the upcoming book launch on the eve of their annual facilitation Summit. While the book officially goes on sale in stores everywhere on March 1st, you'll have the opportunity to get a copy before everyone else.

This extra unique virtual book launch experience is online, but this is NOT a webinar or a boring meeting. We are gathering an eclectic mix of meeting professionals and remote workers from across the globe to celebrate the launch of Magical Meetings and explore together how to make every meeting more magical. Come prepared to participate!

During this enchanted experience, you'll start by meeting another attendee at random and share stories of your favorite meetings, followed by a share out of some of the best stories. Then our publisher, Rohit Bhargava, will share a few opening remarks before John and Douglas share their Magical Meeting stories. For the second half of the launch, we'll guide small groups conversations to explore how we can show up better in all meetings. Finally, we will close with a commitment to making our meetings just a bit more magical everyday.

Interested in hearing when this workshop will occur next?
Reinvent How Your Team Works Together
By Douglas Ferguson & John Fitch
What if having an agenda has no effect on whether you have a great meeting? What happens when you actually do the work in the meeting? What are the five common elements of every meeting that sucks, and how do you avoid them?
In this guide, we tackle the myth that the most effective way to get more out of meetings is to just avoid having them or to have less of them. But meetings are integral to getting sh*t done. Meetings are the secret underappreciated weapon that businesses are using badly. And why do they use them so badly? Because no one has been taught how to make them better.
Douglas and John show you how to adopt and adapt the non-obvious Meeting Mantras they developed at their company, Voltage Control. Their methods have helped companies and teams transform the perception of meetings from "going to the dentist" (ie – something you have to do but hate) into something you can't wait for – like a rock concert or great dinner.
Douglas is an entrepreneur and human-centered technologist with over 20 years of experience. He is the founder and president of Voltage Control, an Austin-based change agency that specializes in helping teams work better together through participatory decision making and design inspired facilitation techniques. He has helped transform teams from U.S. SOCOM, the Air Force, Adobe, Dropbox, Fidelity, Vrbo, Liberty Mutual, Humana, and SAIC.
Douglas is a thought leader and master facilitator of Design Sprints, Innovation Acceleration, Team Alignment, Meeting Systems, Culture Transitions, and Change Transformations. He is also the author of three books: Beyond the Prototype, How to Remix Anything (co-authored), and Start Within (co-authored).
Motivated by a mission to rid the world of horrible meetings and offer meaningful meetings in their place, Voltage Control is calling upon fellow facilitators to transform meeting and innovation culture. From free weekly community meetups to Control the Room–the annual facilitator summit, Voltage Control is building a community of facilitators to change the world.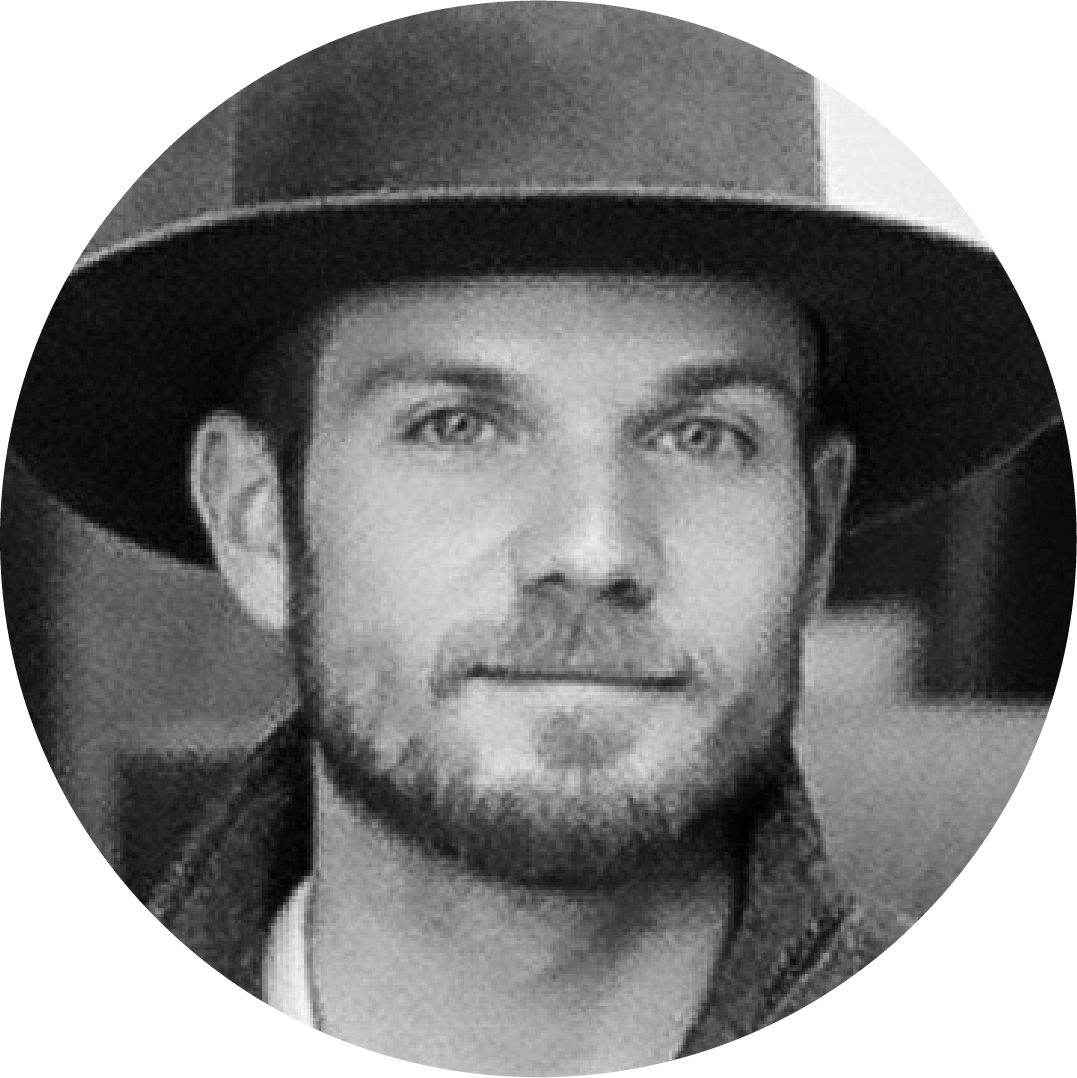 John is an entrepreneur and business coach. He is Chief Product Officer of Voltage Control, where we prototypes tools to help people facilitate better meetings. He enjoys designing technology through unlearning and the generous act of sonder. Prior to Voltage Control, John was Entrepreneur in Residence at Animal Ventures where he advised Fortune 100 leadership on their prototyping practices and led distributed software teams at the intersection of machine learning, robotics, and decentralized computing. John also worked directly with Google Ventures running Design Sprints and now coaches organizations how to develop rapid prototyping practices within their culture.
John is a co-author to two books with Douglas Ferguson: How To Remix Anything and Non-Obvious Guide to Magical Meetings and is an author of Time Off – a look at how modern society is burning us out, why time off and creativity will be a crucial component to the future of human work, and the solutions to help us all prioritize our "rest ethic." John spends his leisure time farming, hosting dinner parties, and practicing Jiu Jitsu. He graduated from University of Texas at Austin and is a proud alumni of Seth Godin's altMBA.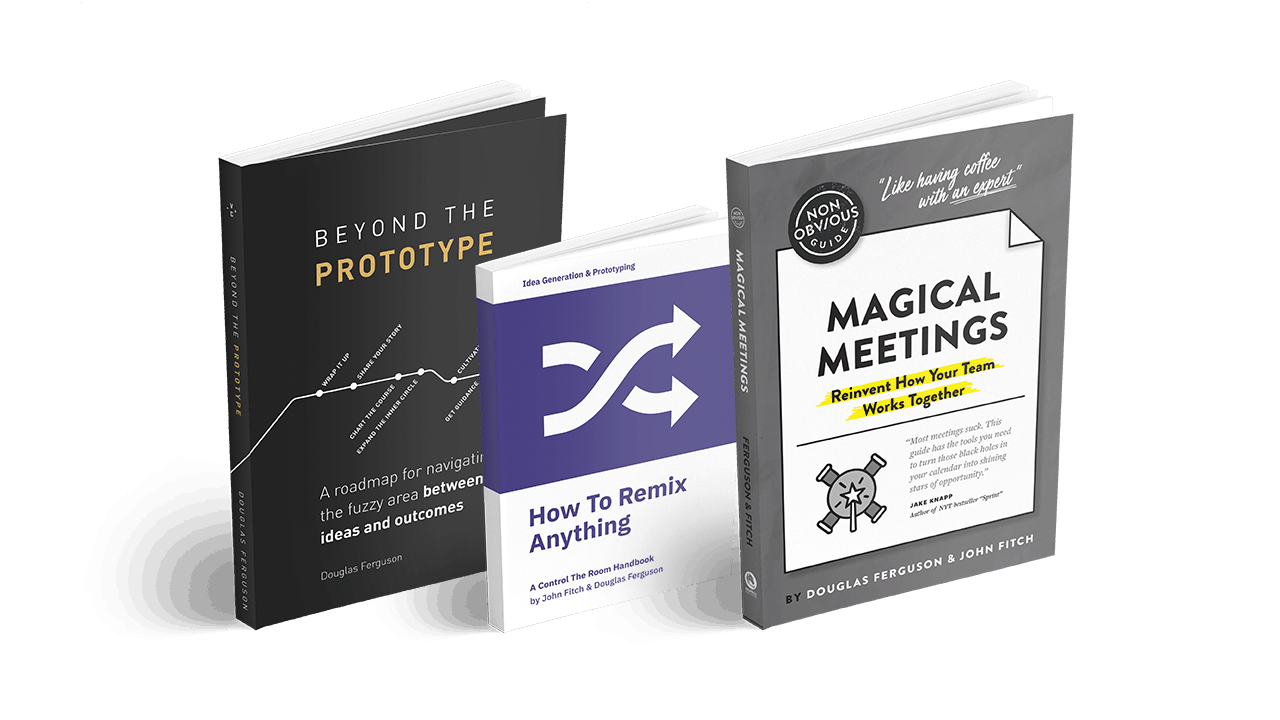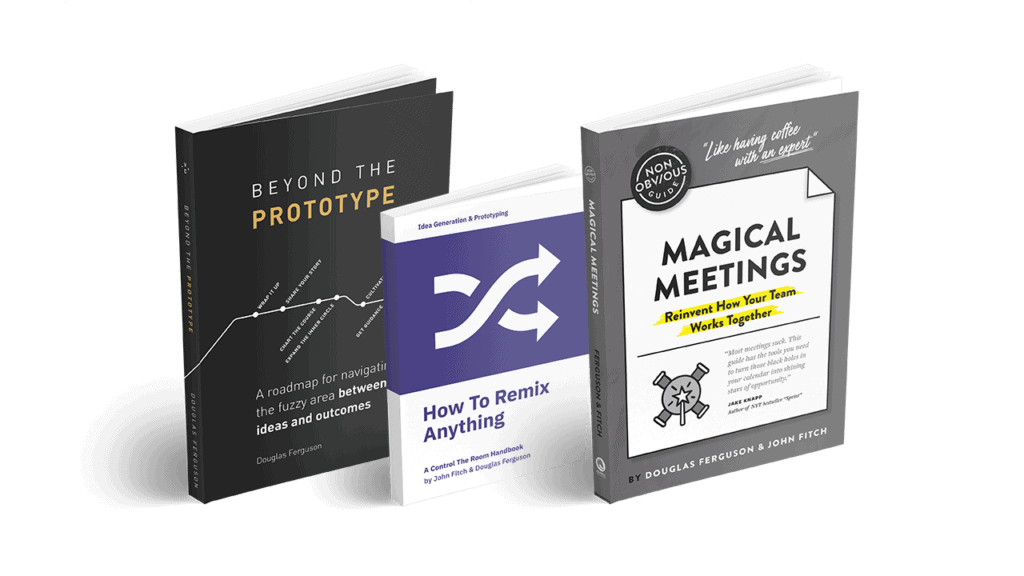 Innovation can seem complex or reserved for the exceptional. But we believe innovation is for everyone. We've set out to illuminate a path for you to generate bold ideas, visualize and share them, overcome obstacles, and turn them into reality. Our books are equal parts guidebook and stories from years of experience helping companies adopt an innovation mindset and culture. They're practical & actionable, so you can get started now. We hope they'll help you on your journey to realizing your biggest, boldest ideas.
Copyright © 2021 Voltage Control. All Rights Reserved.